Marc Dutroux ex-wife to transfer to Belgium convent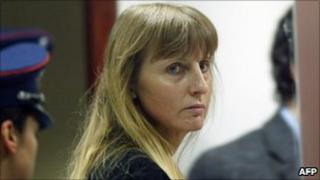 A Belgian court has decided to transfer the jailed ex-wife of the notorious child killer Marc Dutroux to a convent.
The "conditional release" ruling came after a convent near Namur in southern Belgium agreed to take her in.
Last year France refused to let Michelle Martin move to a convent in northern France.
She has spent 16 years in prison, out of a 30-year jail term. She was found complicit in two of Dutroux's four murders of young girls.
She was also convicted of helping Dutroux hold his victims prisoner.
Martin will go to the Clarisses convent in Malonne and has been ordered to "keep her distance" from relatives of the victims.
Dutroux was arrested in 1996 and convicted in 2004 of the kidnap and rape of six girls, teenage or younger. He also killed two of the girls and caused the deaths of two others.
Martin was arrested along with Dutroux and found guilty of helping Dutroux in the abductions, and of complicity in the deaths of two of the girls - eight-year-olds Julie Lejeune and Melissa Russo.
They were found buried after they had been starved to death in Dutroux's basement dungeon.
Jean-Denis Lejeune, father of Julie Lejeune, said: "No-one has consulted us, and now she will be living as a virtually free woman just 60km away.
"Legally we are powerless to do anything about this. The rights of the victims' families are being trampled all over by the law."
The family of victim Eefje Lambrecks, another victim of Dutroux, said they were strongly opposed to Martin's release because "she never voiced any sincere regrets".
Psychiatrists have also warned officials that Martin could still present a danger to society, Belgian media reported.
Martin must live under strict conditions while resident at the convent, including not speaking to the media about her crimes.
She would only be allowed out of the convent under strict supervision of nuns and probation workers, officials said.
But in 10 years' time she will be eligible for full release into the community, the court in Mons ruled.