Gorilla Tatu hangs himself by accident in Prague Zoo
27 July 2012

From the section

Europe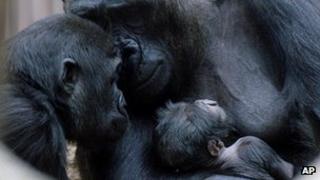 A gorilla has died by accidentally hanging himself in Prague Zoo, officials say.
Five-year-old Tatu was found dead and hanging by a rope in the gorilla wing on Friday morning, the zoo's director said in a statement.
A keeper told the Associated Press it was likely that Tatu had unbraided a rope the gorillas use for climbing and put a strand around his neck.
Tatu gained fame in 2007 when thousands watched his birth live online.
"This is the most tragic event that has happened at the Prague zoo since a flood damaged a large section in August 2002," director Miroslav Bobek said in a statement quoted by the AFP news agency.
Several animals were killed by that flooding, including a gorilla named Pong.
Mr Bobek said zoo keepers had to drive away the other apes from Tatu before unsuccessfully trying to resuscitate him.
"It was mainly the female Kamba, the oldest member of the herd, who stubbornly refused to abandon Tatu," Mr Bobek said.
Zoo keeper Pavel Brandl said Kamba appeared to be trying to help Tatu, but that it was "hard to say what exactly she was doing".