Ban Ki-moon first UN chief to visit Srebrenica graves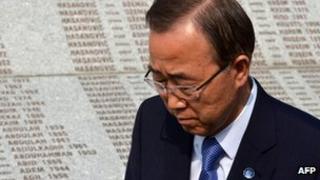 Ban Ki-moon has become the first UN secretary general to visit Srebrenica, laying flowers in memory of the 8,000 victims of the 1995 massacre.
A UN peacekeeping force failed at the time to protect Bosnian Muslim men and boys from Bosnian Serb forces, who rounded up and shot them.
Earlier, Mr Ban told Bosnian MPs the UN had not lived up to its responsibility but had learnt lessons.
He also visited Sarajevo's stadium from the 1984 Winter Olympics.
Two men accused of masterminding the massacre at Srebrenica, former Bosnian Serb political leader Radovan Karadzic and Gen Ratko Mladic, are currently on trial at the UN's Yugoslav war crimes tribunal in The Hague.
'Learning still'
Along with his wife, the UN chief bowed while facing the graves of the Srebrenica victims before meeting widows and survivors. He laid white flowers at the memorial.
On Wednesday, addressing Bosnian MPs in Sarajevo, he said: "In a tragedy of such epic proportions, there was so much blood and so much blame.
"The international community failed in preventing the genocide that unfolded. But we have learned from the horror and we are learning still."
Hasan Nuhanovic, a former interpreter for the Dutch UN battalion in Srebrenica who lost both parents and his brother in the massacre, told AFP news agency that the "UN must take a position... [and] recognise its responsibility".
The former interpreter is, along with others, seeking to hold the Dutch state responsible for the deaths.
"The people who delivered my family to the Serb forces were [UN] blue helmets," he said.
"There is no organisation which is more responsible for what happened in Srebrenica than the UN."
Visiting the Olympic Stadium on Thursday, Mr Ban went for a symbolic run with marathon runner Islam Djugum.
He carried a large flashlight in his hand, which apparently represented the Olympic torch.
He said he meant to carry Sarajevo's spirit of resilience and reconciliation to London for the 2012 Olympics.