Israel holds funerals for Bulgaria bus bomb victims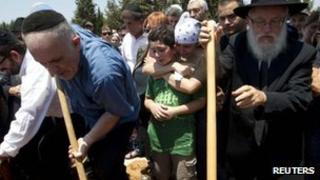 Funerals have been held for the five Israelis killed in a suicide attack on a bus in Bulgaria on Wednesday.
The bodies of the victims - four men in their 20s and a pregnant woman - were flown to Tel Aviv on Thursday night.
The Bulgarian bus driver and suspected suicide bomber also died in the attack, which targeted a bus carrying Israeli tourists at Burgas airport.
Bulgarian authorities have released CCTV footage of the man they suspect carried out the attack.
They say the man, who is white and believed to be around 36 years old, was carrying a fake US driving licence.
Israel blames Iran and the Lebanese Shia militant group Hezbollah for the blast in the eastern Bulgarian city, which also injured at least 30 people.
In response to Israel's accusations, an Iranian foreign ministry spokesman said on Thursday that Tehran strongly condemned "all terrorist acts".
Hezbollah has not publicly commented on the issue.
The BBC's Jon Donnison, in Jerusalem, says the attack could be part of a covert but violent war between Israel and Iran. There is a view among some analysts that it could be a response to a series of recent attacks on Iranian nuclear scientists.
Funerals for friends
The funerals were held in the Israeli town of Petah Tikva for childhood friends Yitzik Kolengi, 28, and Amir Menashe, 27. Both were reported to have had infant children.
In the nearby city of Rishon Lezion, hundreds of mourners joined the family of Kochava Shriki, a 42-year-old woman who had recently become pregnant after years of fertility treatments.
Friends Maor Harush, 26, and Elior Price, 24, were also being buried in northern Israel.
Bulgarian authorities released CCTV footage on Thursday of the man they believe carried out the attack.
It showed a man going in and out of the terminal, wearing a baseball cap over long blonde hair and carrying a bulky backpack.
Officials think the backpack carried the bomb which was later placed in the luggage compartment of the tourist bus.
But on Friday, Bulgarian prosecutors said the suspect had a short haircut, not the long hair seen in a security video. He had tried to rent a car in the days before the bombing but was turned down because his ID appeared suspicious, according to Associated Press news agency.
AP reported that Interior Minister Tsvetan Tsvetanov has said initial investigations have ruled out that the bomber was a Bulgarian citizen.
He said the man is believed to have been in the country for up to seven days before the attack.
"We cannot exclude the possibility that he had logistical support on Bulgarian territory," Mr Tsvetanov added, without providing further details.
Finger pointing
On Thursday, Israeli Prime Minister Benjamin Netanyahu said that the attack "was perpetrated by Hezbollah, Iran's leading terrorist proxy".
Mr Netanyahu said it was part of "a global campaign of terror carried out by Iran and Hezbollah".
On Wednesday, the prime minister had warned that Israel would "respond forcefully to Iranian terror".
Israeli officials also stressed that the bombing resembled several recent attempted attacks on Israeli targets in India, Thailand, Azerbaijan, Kenya and Cyprus.
Bulgaria is a popular tourist destination for Israelis.
However, in January there were reports that Israel had asked Bulgaria to tighten security for Israeli tourists travelling by bus following the reported discovery of a suspicious package.