German lawmakers approve Spain's bank bailout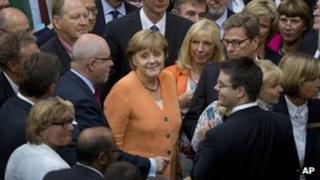 German MPs have approved the proposed eurozone bailout of up to 100bn euros (£78bn; $122bn) for Spanish banks.
Members of the lower house of parliament - the Bundestag - backed the aid package by a 473-97 vote.
Germany is the biggest contributor to the temporary bailout fund, the EFSF, but Berlin is reluctant to underwrite the debts of struggling EU countries.
Spain is hoping to get a first slice of 30bn by the end of the month, but its banks face close supervision.
Madrid is not getting a full-scale bailout like the programme organised for Greece, because Spain's problems are different - rather than a colossal debt burden, its biggest challenges are record unemployment and poor competitiveness.
The successor to the EFSF, the 500bn-euro European Stability Mechanism (ESM), has been agreed by eurozone politicians, but Germany's constitutional court is now scrutinising it.
Before the Bundestag vote, Finance Minister Wolfgang Schaeuble warned that the eurozone risked contagion from Spain's weak banks.
Market anxiety about Spain and Italy has kept their borrowing costs high. Yields on their sovereign bonds have risen to the 6-7% range considered unsustainable.
The ESM was supposed to start operating this month, but there have been ratification delays in several countries.