Italy mozzarella magnate Mandara held over mafia links
17 July 2012

From the section

Europe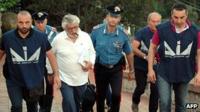 Italian police have arrested the head of one of Italy's biggest mozzarella makers on charges he had close ties to the mafia.
Giuseppe Mandara - who once dubbed himself the "Armani of Mozzarella" - was arrested with three associates near Naples, police said.
They accused Mr Mandara of collaborating with the Casalesi clan of the Naples-based Camorra mafia.
His Mandara Group firm is also accused of producing counterfeit cheese.
The company allegedly mixed cow's milk with more expensive buffalo milk that is the key ingredient in the trademark soft white cheese, and passed off batches of provolone cheese as a more expensive kind, AFP news agency reported.
In pictures released by police, Mr Mandara was shown being led away by police with a cigar in his mouth.
'Linked from 1980s'
Police said they had seized 100m euros (£79m; $123m) worth of assets.
"We have seized the whole company," Paolo Di Napoli, an officer from the environmental protection section of the Carabinieri police, told AFP.
Police said the links between Mr Mandara and the mafia went back to the 1980s, when a mafia bailout helped rescue his business from bankruptcy.
Mandara mozzarella is sold across the world, reports the BBC's Mark Duff in Milan.
The cheese itself is a key ingredient in some classic Italian recipes such as caprese - a simple tomato, basil and mozzarella salad - and the trademark Neapolitan pizza.
The mozzarella producers' association was quoted as saying it had expelled the Mandara Group and would take an active part in the investigations.
This is not the first time allegations have surfaced of links between mozzarella producers and the Camorra, our correspondent says - but it is the first time such an illustrious name has fallen foul of police investigations.