French paper Liberation prints Mohamed Merah transcript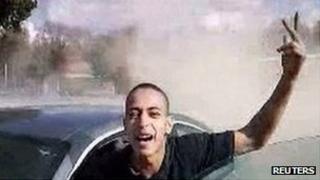 The French paper Liberation has printed an 173-page long transcript of conversations between the killer Mohamed Merah and police negotiators.
In extracts, Merah, who was shot dead after killing seven people, describes how the murders "soothed his heart".
The move has prompted an inquiry into breach of confidentiality of an investigation, AFP reports.
The authorities are already investigating after a TV channel aired extracts from the tapes a week ago.
Merah, 23, killed three soldiers and four Jews, including three children, in several attacks in March.
'I felt better'
The transcript details Merah's ramblings with police as he was holed up in his home in Toulouse, in south-western France, shortly before his death. In it, the Islamist killer seeks to explains his attacks as revenge for conflict in Muslim lands.
"I had a precise goal in my choice of victims. I would never have killed children if you hadn't killed our children," he says.
"I kill soldiers in France because in Afghanistan, they are killing my brothers. I kill Jews because these same Jews are killing innocent people in Palestine."
"If I had killed civilians, the French people would have said, 'he's a just a crazy terrorist from al-Qaeda."
Merah told police his first murder was "difficult" but later killings "soothed him".
He added: "And because my heart was soothed, I wanted to do it again, and each time I struck again, I felt better and better."
The paper has reportedly justified its publication in the name of legitimate criticism of the police.
Earlier this month, relatives of Merah's victims said they were "outraged" after TF1 broadcast parts of the conversation, and their lawyers said they would seek an injunction to block further broadcasts.
Police also launched an inquiry to find out how the channel came to obtain the recordings.
France's Interior Minister Manuel Valls also condemned the decision, saying it showed a lack of respect to relatives of the victims.
He said he regretted that they were run at a time when court proceedings relating to the killings were still ongoing.
Merah was shot dead after a huge manhunt culminated in a 32-hour stand-off with police at an apartment in Toulouse.