Cyprus naval explosion: Ministers deny charges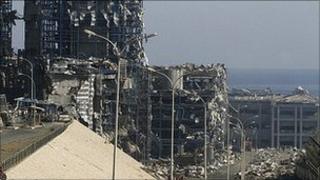 The former defence and foreign ministers of Cyprus have pleaded not guilty to manslaughter charges over a big explosion on a naval base that killed 13 people.
Costas Papacostas and Marcos Kyprianou are among six public officials facing prosecution over the July 2011 blast.
The two ministers resigned after the explosion, which crippled Cyprus main power plant causing severe disruption.
Manslaughter carries a maximum sentence of life in prison in Cyprus.
Mr Kyprianou, the former foreign minister, and ex-defence minister Mr Papacostas, are on trial along with army deputy commander Savvas Argyrou, fire chief Andreas Nicolaou, deputy fire chief Pambos Charalambous and the commander of the fire service's disaster reaction unit, Andreas Loizides.
They pleaded not guilty to charges of manslaughter, causing death through negligence and dereliction of duty.
The disaster occurred when 98 containers of Iranian gunpowder, which had been confiscated two years earlier from a ship suspected of smuggling, exploded.
The blast caused damage over a wide area.
The dead included the head of the Cypriot navy and six firefighters. Dozens of people were wounded.
Street protests broke out against the government's handling of the affair.
Immunity
A public inquiry found that containers had been left in an open field inside a naval base since they were confiscated, exposed to fierce sunlight.
An official investigator said the President of Cyprus, Demetris Christofias, bore a "serious, and very heavy personal responsibility" for the blast.
The investigator said he was convinced that Mr Christofias was aware of the danger, yet took no precautions.
However, Mr Christofias denies any responsibility and, as president, he has immunity from prosecution.
The men are being tried at the criminal court in Larnaca on the island's south coast. The hearing was adjourned until 27 August.