Germany to help Spain give skills to jobless youths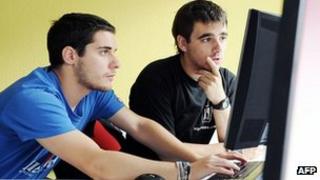 Germany says it will help Spain to launch German-style apprenticeships for its young people, half of whom are unemployed because of the debt crisis.
Spain's Education Minister, Jose Ignacio Wert, signed an agreement with his German counterpart in Stuttgart on Thursday, to give more Spaniards on-the-job training with German firms.
Spain's youth unemployment has soared to 52% - the highest rate in the EU.
Mr Wert said Spain must learn from German best practice to improve skills.
"We want Germany to be our sherpa on this job training adventure," he told Germany's Frankfurter Allgemeine newspaper.
"We have 1.5 million university students and only 270,000 trade school students." He added that students were getting far more theory than practical experience, and that many lacked foreign language skills.
The education minister toured a Daimler workshop for trainees in Esslingen, near Stuttgart, with his German counterpart Annette Schavan.
Germany's "dual" education system, combining numerous practical apprenticeships with classroom studies, is widely admired in Europe and seen as a vital factor in Germany's export success.
Ms Schavan said Germany would expand educational exchanges with Spain and help Madrid develop its own dual system. German firms doing business in Spain will be encouraged to hire and train more young Spaniards.
Germany's youth unemployment rate, at 7.9%, is much lower than in many of Germany's EU partners.
Ms Schavan told Reuters TV that "there are great jobs and apprenticeships here", noting that young Spaniards can already look for work in Germany.
But she said "there must also be another approach: in Spain and in countries where so far there is no vocational training, it must be introduced and companies must be convinced to introduce it".
The Labour Minister for Germany's North Rhine-Westphalia region, Guntram Schneider, voiced scepticism about the initiative, however.
Mr Schneider, a member of the opposition Social Democratic party (SPD), said some parts of Germany had an acute lack of training places for jobless youths.
He said many apprentices had to take jobs they had not been trained for and "skills tourism" in the EU was not a solution to youth unemployment, Germany's ARD news reported.