Row threatens deal on EU patents system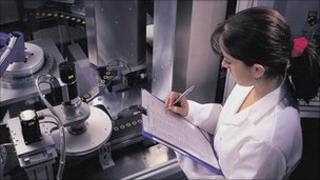 A common European patent system that could slash costs for businesses may be delayed because of a row about the role of the European Court of Justice (ECJ).
After some 30 years of discussions the EU finally reached a deal on the common patent in Brussels last week.
The European Parliament was to vote on the patent deal on Wednesday, but its chief negotiators say EU leaders have changed the original agreement.
The UK government wants part of the deal revised to limit ECJ involvement.
UK Prime Minister David Cameron said he had won agreement at the EU summit "that the new patent should be redrafted so it was not snarled up in the processes of the European Court of Justice".
Currently European patents can cost 10 times more than patents registered in the US, because of translation costs.
Legal wrangling
The deal was agreed between 25 of the 27 member states. Italy and Spain opted out, as they were unhappy about the patent translation arrangements.
Articles 6-8 of the draft law, concerning the ECJ's role in patent disputes, will now be renegotiated however.
The deal will establish the main division of the new Unified Patent Court in Paris. But London will host the court dealing with life sciences and chemistry, while Munich will have the court that handles engineering litigation.
The three-way compromise arose because there was no agreement about a single site for the patent court.
In a statement to the BBC, the UK's Intellectual Property Office said: "Including Articles 6-8 in the regulation allows for referrals to the ECJ, which risks adding delays and uncertainty to what are essentially commercial disputes between private parties.
"We expect that representatives of the EU Council [EU governments] will be discussing the position with the Parliament and we look forward to the outcome."
German Socialist MEP Bernhard Rapkay, one of the chief negotiators, said the EU governments were seeking to revoke a text that had already been agreed with the parliament in December.
To change it now would be a "scandalous breach" of procedure, he said. He added that the leaders' haggling over the seat of the proposed patent court had been like "an oriental bazaar".
Next week a committee of MEPs will discuss the proposed changes with legal experts.