Vatican Bank seeks to counter image of secrecy
28 June 2012

From the section

Europe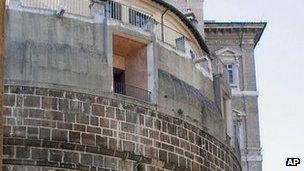 The Vatican Bank has opened up to the media in an effort to appear more transparent, amid a scandal surrounding the Vatican's financial affairs.
In a briefing to journalists, director Paolo Cipriani said the bank wanted to dispel "myths", including that it runs secret bank accounts.
In May, the bank sacked its president, who said he was being punished for seeking greater transparency.
Earlier this year, leaks hinted at Vatican rifts about the bank's running.
The Vatican said the official, Ettore Gotti Tedeschi, had been dismissed for being an ineffective manager.
The series of leaked memos known as Vatileaks revealed allegations of corruption, nepotism and internal conflicts within the Vatican, including about how to to comply with international banking regulations.
In May, the Pope's personal butler, Paolo Gabriele, was arrested and charged in connection with the Vatican's inquiry into the scandal. Officials said he was involved in leaking documents.
Openness
Thursday's briefing comes as Moneyval, the Council of Europe body tasked with counteracting money laundering, is to due to rule in July on whether the Vatican meets international standards on financial transactions.
Mr Cipriani acknowledged that the bank's operations had been shrouded in a "veil of mystery" in the past, but said it had taken steps to comply with international standards.
"We have nothing to hide," the Reuters news agency quoted Mr Cipriani telling the briefing.
"I want to deflate the legend once and for all: There are no numbered accounts and there are no links to offshore banks."
The bank, known formally as the Institute for Works of Religion, handles Vatican officials' financial accounts, although it relies on commercial non-Vatican banks for some banking operations.
In 1982, it lost $250m (£158m) in a scandal involving the collapse of one of Italy's biggest private banks - the Banco Ambrosiano - with which it had close ties.