Can Greece's new government regain public trust?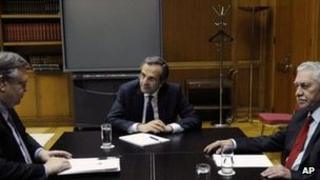 It took two elections, endless meetings between political leaders and huge pressure from the EU - but now Greece finally has a new government.
It is a three-party coalition: a strange beast in a country that has traditionally known single party rule.
And two of the coalition members - New Democracy and the Socialists (Pasok) - inspire little love among the Greek people.
Power has yo-yoed between them for most of the past four decades.
They are widely blamed for chronic mismanagement of the economic crisis. They have pushed through deeply unpopular austerity measures. And they are beset by allegations of corruption.
So why have they come back into power - and can they regain the trust of a weary Greek nation?
Bailout tinkering
Some of their voters backed them through gritted teeth, fearful of the alternative - the left-wing party Syriza, which came within a whiff of victory.
It supports Greece's membership of the Euro but campaigned on a vigorous anti-bailout platform, promising to halt the spending cuts demanded by Brussels.
That, said EU leaders, could have placed Greece's place in the eurozone under threat.
And so with the warning from Berlin and Brussels ringing in their ears, many here panicked, throwing their weight - with some reluctance - behind New Democracy so that the party clinched first place.
But although the new government will broadly honour the conditions of Greece's bailout, it has also promised to renegotiate some terms of the loan agreement, lightening the load of austerity and hoping to ease the pain.
Will the country's lenders be sympathetic to that?
Berlin seems wary. German Chancellor Angela Merkel has said Greece must stick to its commitments.
But perhaps there will be some tinkering around the edges of the agreement - for example to spread the cuts over a longer period of time, without changing the fundamentals of the bailout terms.
"I think that Europe has its eyes and ears open to Greece, and if we are sending the right message, it will be welcomed," says Miltiadis Varvitsiotis, a New Democracy MP.
"We're not saying that we won't stick to what we've agreed. We just want to alter some of the parts because the programme is not bringing stability to Greece - it is taking us down instead, so it's not efficient."
Time running out
The new government is on dangerous ground. If it fails to win concessions from Brussels, it will face a swift backlash at home.
Syriza will be a strong and defiant voice in opposition, able to mobilise mass social unrest if the austerity continues unabated.
And the little trust that has been placed in Greece's new leaders would soon evaporate if the gamble with the EU does not pay off.
That could fatally wound the government and could, Mr Varvitsiotis agrees, spell its premature end.
"This is something that everybody in Europe should take into account when they negotiate with us," he says. "We want some room for manoeuvre for the new government."
There is little time to waste. The government inherits a country groaning under the weight of recession and austerity.
A third of Greeks have been pushed below the poverty line, and new figures show the unemployment rate soaring to over 22%.
And in central Athens, there is little joy at the prospect of more pain.
"I want them to do what they can to make Europe realise that we are suffering," says Eleni, an out-of-work secretary. "We just need help."
Nicolas, a recent graduate, tells me he is relieved that there is a government in place, but does not expect positive changes.
"They will be the same as the last ones," he says. "Maybe they'll last a few months, but then they'll disappoint us as they always do - and that will be the end of them."
Even the coalition members themselves are fearful of being tainted with the brush of austerity.
The two left-wing parties have refused for their MPs to be part of the cabinet, hoping to distance themselves from the unpopular measures ahead. That does not augur well for solidarity within the government.
And so a country in the midst of its worst financial crisis in modern history finally has somebody to take the reins.
Greece has a tendency to teeter ever closer to the precipice, stare down at the horrors below and pull back at the 11th hour.
This time is no exception.
But with vast levels of debt and a society pushed to breaking point, the next precipice could lie just around the corner.
Greece's new government is in for a rough ride.