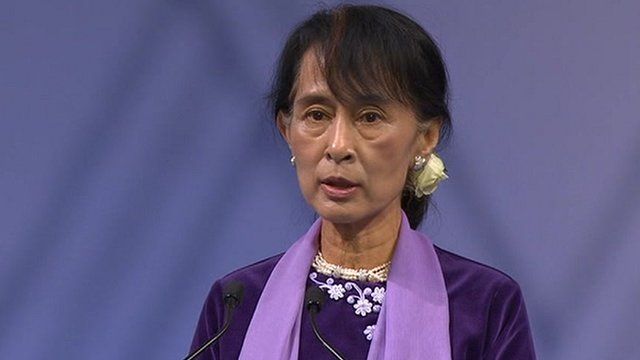 Aung San Suu Kyi: Nobel prize restored sense of reality
16 June 2012 Last updated at 14:03 BST
Burma's pro-democracy leader Aung San Suu Kyi has said receiving the Nobel Peace Prize in 1991 made her feel "real again" and reassured her that Burma's plight had not been forgotten.
Speaking in the Norwegian capital, Oslo, she said Western support had contributed to changes in Burma.
Ms Aung San Suu Kyi spent much of the past 24 years under house arrest in Burma. She was freed in late 2010.
She did not leave the country until now, fearing its military rulers would not allow her to return, and was unable to receive her Nobel Peace Prize in person, or be with her British husband, Michael Aris, when he died in 1999.
Delivering her acceptance speech 21 years after being awarded the prize, she asked her audience to rememebr prisoners of conscience, saying "please remember them and do whatever is possible to effect their earliest, unconditional release."