Breivik trial: Psychiatric reports scrutinised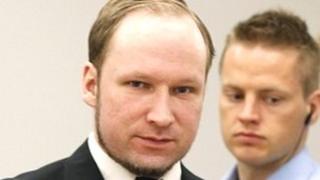 The authors of the first psychiatric report which found self-confessed mass killer Anders Breivik insane have been giving evidence in the trial against him in Oslo.
Breivik's sanity is the central question in this case, as he has admitted carrying out the 22 July twin terror attacks which killed 77 people last year.
After observing and talking to Anders Breivik for several weeks, forensic psychiatrists Synne Soerheim and Torgeir Husby published their report last year, concluding he was suffering from paranoid schizophrenia when he killed 77 people in his Oslo car bombing and mass shooting at a Labour Party youth camp in Utoeya.
That led to an outcry from victims and their legal representatives, who wanted Breivik to be held accountable for his actions.
A second psychiatric report was commissioned, and it concluded Breivik suffered personality disorders, but that he was not psychotic and unaccountable for his actions in the face of the law.
This has created a unique situation for the court, which must now decide on the balance of all evidence whether to send Anders Breivik to prison or to a secure psychiatric unit.
Breivik insists that he is sane and acted to defend Norway and Europe from multiculturalism and Islam.
'Logical and coherent'
"We sometimes have two conflicting reports after the end of a trial, but we have not heard of any conflicting reports before the trial starts," says Paal Groendahl, a senior forensic psychologist.
"This is not an easy task for them [the court], mostly due to these conflicting two reports and this army of psychiatric experts who have been witnessing here this week."
Earlier the court heard from a string of psychiatrists, all arguing that the defendant is sane.
One of them, Eirik Johannesen, observed and spoke to Anders Breivik in prison for more than 20 hours.
"His speech is logical and coherent," Johannesen told the court on Monday.
"He has shown no sign of cognitive lapses. He has created an identity in order to convince other right-wing extremists and fascists, and this does not fit in with his natural expression and with who he really is - but not in a psychotic way."
Mr Johannesen's colleague Arnhild Flikke also told the court she had found no signs of psychosis in her meetings with Breivik, and that he was accountable.
Another central witness this week was Randi Rosenqvist, who works as a psychiatrist at the prison where Breivik has been held since his arrest.
She concluded early on that he was sane, after having observed and spoken to him over several weeks.
"He adapted quite easily to the prison regulations and he has shown he is able to see himself as others see him," Dr Rosenqvist told the court on Tuesday.
When asked by the prosecution how Breivik's behaviour had been, compared with other inmates, Dr Rosenqvist said: "Exemplary."
The situation has been complicated further because the Norwegian Board of Forensic Psychiatry - the watchdog assessing all legal psychiatric reports - passed the first but not the second report on Breivik.
The board unanimously accepted the first report which concluded Breivik suffered from paranoid schizophrenia at the time of the attacks.
It asked for clarifications to several points in the second report, which concluded Breivik was not psychotic.
When the authors of that report responded, the board still did not give the report an all-clear.
Professor of psychiatry at the University of Oslo, Svenn Torgersen, believes the fact that the board of forensic psychiatry backs one and not the other report could be a tipping point for when the court decides on Breivik's sanity.
Mr Torgersen too cannot remember a situation where a court has had to relate to two conflicting psychiatric reports.
He said: "It is very unusual to have two reports, you can have two people in one team who disagree, but not two reports."
'Psychopath'
Breivik has asked the court to find him sane.
He wants his extreme-right anti-Islam ideology to be taken seriously, rather than being portrayed as the works of a madman.
"He is a man who has an agenda, which is to talk about his political ambitions and aims." said forensic psychiatrist Henning Vaerhoey.
"He is as I see it a person with a personality disorder, in more common terms a psychopath.
"He is not psychotic, not at all. He's accountable, that's for sure."
So far Mr Husby and Ms Soerheim have been the only psychiatrists who have been arguing Breivik is insane - both in their report and now in court. Defending that stance, they have said it was important that they could observe Breivik soon after his terror attacks.
This could be a key point for the court when it decides which way to go when passing its sentence, said psychologist Paal Groendahl.
"I've not registered any clear psychotic symptoms as he has appeared in court, but that is not a valid conclusion with regard to his accountability - because he might have been psychotic at the time of the crime.
"And that is the main task for the forensic experts, they should document whether he was or wasn't psychotic at the time of the crime.
"This is not at the time of the crime, this is months afterwards and he may now have changed his behaviour."
Anders Breivik will be sentenced on 20 July or 24 August.
If the court finds him to be sane, he will most likely be sentenced to 21 years in prison, with the possibility of further detention if he is still considered a threat to society.
If he is found to have been psychotic at the time of his crimes, he will be committed to a closed psychiatric institution.