Russian reporter Sergei Sokolov 'not threatened'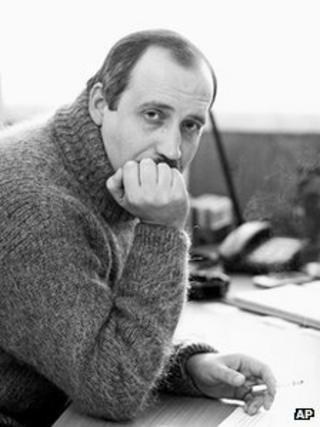 Russia's top investigator has denied threatening the life of a newspaper journalist who reportedly fled the country recently.
Alexander Bastrykin, head of Russia's FBI-style Investigative Committee (SK), admitted publicly rebuking Sergei Sokolov, who works for Novaya Gazeta.
But he denied meeting him privately to threaten him and joke about investigating his death.
Sokolov is said to be now staying in an unspecified foreign state.
Another prominent Russian journalist, Alexei Venediktov of Moscow Echo radio, said Mr Bastrykin was prepared for talks, without giving details.
Novaya Gazeta, where Sokolov works as a deputy editor, is well-known in Russia for its investigative reporting and campaigns against police abuses.
One of its senior reporters, Anna Politkovskaya, was shot dead in Moscow in 2006, in a case that is still being investigated.
'No honour'
Sokolov's editor, Dmitry Muratov, used an open letter to Mr Bastrykin on Wednesday to accuse him of having threatened Sokolov's life at a recent meeting.
Mr Bastrykin, he wrote, had invited Sokolov to accompany him to a conference in the North Caucasus city of Nalchik on 4 June.
Once at the conference, Muratov continued, the SK chief then publicly berated Sokolov for an article he had written accusing Mr Bastrykin of failing to punish the perpetrators of a mass murder in 2010 at Kushchevskaya in southern Russia.
Audio of the two men's exchange was published by Russian news website Life News.
Sokolov can be heard apologising for the tone of his article but not its gist. The SK chief retorts by accusing the journalist of insulting him.
"In the days of the tsars, Mr Sokolov, this would have led to a duel," Mr Bastrykin says.
"I'm prepared," replies Sokolov.
"You're prepared? Well I am not prepared to fight you. You have no honour."
'Barefaced lies'
After further attacks on Sokolov and his "lousy newspaper", Mr Bastrykin can be heard telling him to "get out" of the room.
In his letter, Muratov accuses the SK chief of a second exchange with his deputy editor, this time without witnesses.
He says the two returned to Moscow on the same plane from Nalchik but on the way back from the airport, Mr Bastrykin's guards drove Sokolov to a forest outside Moscow where the SK chief again confronted him.
Saying that he does not wish to quote Mr Bastrykin's exact words to Sokolov, he writes: "In a fit of anger, you crudely threatened the life of my deputy.
"And even made a good joke by saying you would lead the investigation yourself."
Alexander Bastrykin admitted berating Sokolov at the conference in an interview for Izvestia newspaper on Thursday.
However, he denied any subsequent exchange in a forest, quipping: "The work is so hard that there's no question of nature study trips."
Responding to Muratov's letter, he described it as an "artful mix of fact and barefaced lies".
Reacting to reports of the threat, international media campaigners the Committee to Protect Journalists said they were "deeply disturbed" and urged President Vladimir Putin to order an independent inquiry.