Norway to keep Breivik at prison near Oslo after trial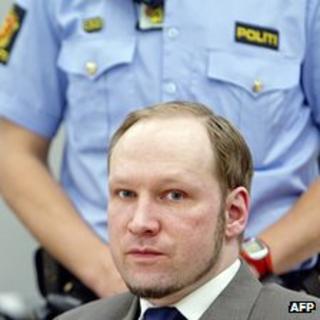 Norway plans to keep Anders Behring Breivik at Ila prison after his trial over the massacre last July, even if he is declared insane.
A high-security hospital unit has been built in the prison near Oslo, at a cost of about 2m kroner (£213,000).
It will house Breivik if he is ruled criminally insane, Norway's Deputy Health Minister Robin Martin Kass said.
Breivik admits setting off a bomb and shooting Labour Party activists in attacks that killed 77 people.
He has been kept in isolation at Ila prison since his arrest.
Since his terror attacks - a bombing in the capital Oslo and a shooting rampage on Utoeya island - Norwegian legislators have been working overtime to complete new mental health legislation to manage "high-risk individuals who are criminally insane".
Mr Kass said the Norwegian parliament was expected to pass the new mental healthcare bill in two scheduled sessions, on 11 and 16 June, and subsequently obtain the King's approval, so that the new law could be implemented by 1 July.
The Norwegian authorities are in a hurry to make sure they have either prison or hospital accommodation ready for Breivik before his trial ends and the verdict is delivered.
Breivik's trial at the Oslo District Court is expected to finish on 22 June. According to the official timetable, the verdict and any sentencing are expected in early July, before the 22 July anniversary of the massacre, in which 242 people were also injured.
However, the BBC has now learned that the verdict is likely to be delayed. The court is working on two possible dates for delivering its verdict - 20 July or 24 August.
"We understand that victims and their families would like to see this trial concluded as soon as possible, and we still hope the court may have a verdict ready by Friday 20 July," court spokeswoman Irene Ramm said. "But it is looking more likely that it will not be ready until after the summer holidays."
Breivik has admitted carrying out the attacks and the court has overwhelming evidence that he did. But the court has to decide whether Breivik is criminally insane or sane.
If he is found to be insane the court will order Breivik to be committed to compulsory mental health care. If he is found to be sane he will be sentenced to prison.
In either event, his permanent address will be the same.