French police 'hold suspect' over anti-Semitic attack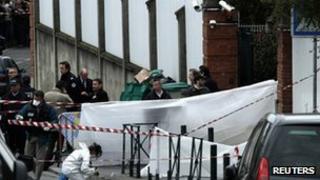 French police say a man suspected of attacking three young Jews with a hammer in the town of Villeurbanne has been detained, local media report.
Several assailants are reported to have taken part in Saturday's attack, in which iron bars were also used.
The suspect, the fifth to be detained, reportedly gave himself up to police on Thursday afternoon.
A spate of anti-Semitic incidents has followed the murder of four people at a Jewish school in Toulouse in March.
The attack in Villeurbanne took place as the three youths, all wearing Jewish skullcaps, were leaving a Jewish school.
A small group attacked them, reportedly insulting and jostling them, before as many as a dozen other joined in, striking the youths with weapons.
One of them suffered a hammer blow to the head, another was struck with an iron bar, while the third was hit on the arm.
'Unquestionable link'
The man detained on Thursday afternoon was "like the other people who are being held, in complete denial", a police source told the Liberation newspaper.
However, the man "is indeed the one that we think used the hammer", the source added.
Incoming French Prime Minister Jean-Marc Ayrault branded the attack "intolerable violence".
Interior Minister Manuel Valls held a meeting with Jewish representatives on Tuesday at which he promised increased protection for Jewish institutions in France.
The man who carried out the Toulouse attack in March, Mohamed Merah, had also killed three French soldiers and later died in an armed siege after police surrounded his flat.
Jewish organisations say there has been an increase in anti-Semitic incidents since the Toulouse killings.
"The link appears unquestionable to me, as we have statistics," Richard Prasquier, president of CRIF, the representative body of Jewish groups in France, told Agence France Presse.