Putin backs 'European' rules for political protests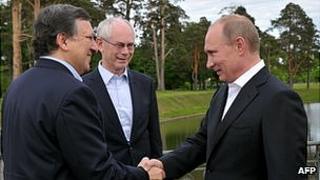 Russian President Vladimir Putin says he wants to see European legal norms applied to political protests in Russia, after big opposition rallies.
He was speaking at a joint news conference with EU leaders, soon after starting his third presidential term.
Mr Putin, speaking in St Petersburg, said holding protests was "normal".
But Russia should "transfer into our legislation those norms of European law that are applied in many European countries to regulate such events."
Mr Putin did not explain how such a move would address the concerns of human rights activists and many Western politicians, who accuse him of curbing democracy.
A new bill going through the Russian parliament would set much higher maximum fines for people holding unauthorised demonstrations: 300,000 roubles (£5,700; $8,740) for individuals and 600,000 roubles for legal organisations.
The parliament is dominated by the pro-Putin United Russia party.
There has been widespread criticism of police detentions of opposition protesters in recent months.
In St Petersburg opposition leaders distributed leaflets listing people they described as political prisoners.
The opposition says the parliamentary election in December and presidential election in March were rigged to favour Mr Putin. Most recently he was prime minister and, before that, president for two terms.
Khodorkovsky case
Mr Putin denied claims that the jailing of former oil tycoon Mikhail Khodorkovsky was politically motivated, citing a ruling by the European Court of Human Rights on his case.
Mr Khodorkovsky, once Russia's richest man, has been in jail since his conviction for fraud and tax evasion in 2005.
His Yukos oil giant was stripped of its assets. Earlier he had accused the Kremlin of corruption and had backed opponents of Mr Putin.
A top EU official, European Council President Herman Van Rompuy, said he had told Mr Putin that "a vibrant civil society should be seen as an integral part of further modernisation".
He called the violence in Syria "appalling" and admitted that the EU and Russian assessments of the conflict there were "divergent". But both sides agreed that the Kofi Annan peace plan for Syria "offers the best solution", he said.
Russia has resisted Western pressure to remove Syria's President Bashar al-Assad from power. Russia argued at the UN that the rebels must share the blame for the massacre of more than 100 people in Houla last month.