Breivik: Court in Norway hears killer took stimulants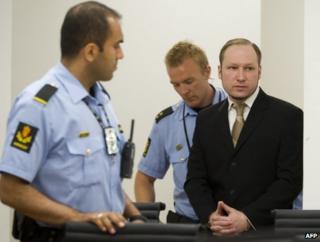 Anders Behring Breivik took stimulants before he launched his deadly attacks in Norway on 22 July of last year, his trial in Oslo has heard.
Expert witness Joerg Moerland, a professor of forensic toxicology, said the killer had taken a cocktail of ephedrine, caffeine and aspirin (ECA).
"You can say that he was lightly to moderately drugged," he told the court.
Experts in far-right ideology told the trial Breivik's ideas should not be seen as the ramblings of a madman.
Breivik admits the attacks in Oslo and on the island of Utoeya, in which 77 people died and 242 were wounded.
The trial is seeking to establish whether the 33-year-old is sane, in which case he will be sent to prison.
If not, he will be held in a psychiatric institution.
Breivik denies criminal responsibility, arguing his attacks were necessary to combat multiculturalism and prevent a "Muslim invasion" of Norway and Europe.
'Home-made cocktail'
On Day 28 of the trial, Prof Moerland, from the Norwegian Institute of Public Health, said medical records showed that on the night after his arrest, he appeared "lightly drugged" and "there were traces of ephedrine".
The professor asked Breivik if he had used an ECA-stack type combination of drugs on the day of the attacks.
"Yes, that's correct," the defendant replied.
"I had made it myself with the help of three ingredients and the dosage was about 50% stronger than commercial products."
"You can say that he was lightly to moderately drugged by a centrally stimulating substance - a combination of ephedrine and caffeine," the expert told the court.
Breivik said he had tried out different doses of anabolic steroids and ECA before the attacks "to make sure my body could handle it".
Asked if anabolic steroids, used to build up muscle, could have also been a factor in the attacks, Prof Moerland said: "As I see it, the steroids had no supplementary effect but I cannot rule out the possibility that this may have contributed to aggressiveness and agitation."
Addressing the court later on Thursday, Holocaust historian Terje Emberland said Breivik's views could be described as "fascistic", and that some people shared his ideas.
His "distorted world view" had allowed him to "elevate himself above the law and consider his terrorist activities as a legitimate resistance, a fight", he suggested.
Asked by a prosecutor when extremism could descend into madness, Mr Emberland said: "That is an extremely complex question."
'Lone attacker'
Breivik's bomb attack on government buildings in Oslo killed eight people and wounded 209.
Hours later, he shot dead 67 people and wounded 33 - most of them teenagers - at a youth camp of Norway's ruling Labour Party on Utoeya. A further two people died there by falling or drowning.
After weeks of harrowing evidence from survivors of both attacks, many of them injured, state testimony was introduced this week.
On Wednesday, police said they were confident that Breivik had acted on his own, and said they had found no evidence he belonged to a Europe-wide anti-Muslim network.
Breivik insisted that a militant group called Knights Templar did exist, and he warned that a new attack would be launched within the next 15 months.
But chief investigator Kenneth Wilberg told the court that police were sure of their findings.
"Nothing in our investigation supports [the assertion] that the Knights Templar exist," he said.