Ukraine media in Euro 2012 counterblast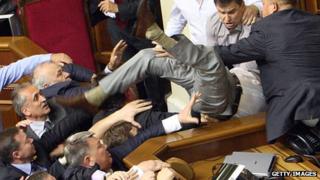 Ukraine's media are campaigning to rescue the country's image ahead of next month's Euro 2012 football championships, after foreign reports about racism, prostitution and political dirty tricks.
Ukrainian TV channels now seek to portray the country - co-hosting the tournament with Poland - as hospitable, secure and tourist-friendly.
News reports on Ukrainian television suggest the attractions for Euro 2012 fans include clairvoyant animals, an organised pub crawl and beautiful women.
'Painful and offensive'
Ukrainian press commentators complain that much of the coverage in the run-up to Euro 2012 has been unfair and biased.
Ukraine's leading English-language newspaper The Kyiv Post said that European tabloid newspapers portrayed Ukraine as "a backward country infested with corruption, Aids, prostitutes and racist thugs". The paper conceded that while some of these criticisms rang true, "Ukrainians say these views are often exaggerated or outright false".
The influential Zerkalo Nedeli (Mirror Weekly) said Ukraine's image abroad had hit a record low.
Compared with previous political scandals that had tarnished Ukraine's reputation, the paper said, "reading or hearing these commentaries about your own country is much more painful and offensive".
Some European leaders have threatened to boycott the championships over the controversial jailing and alleged mistreatment of former Prime Minister Yulia Tymoshenko.
The country was embarrassed further by a brawl in parliament over plans to make Russian an official language alongside Ukrainian.
News website Vgolos even compared Ukraine's image in the foreign press with the sinking of the Titanic. "The majority of reports simply kill the image of Ukraine," it said.
Psychic animals
After Poland chose a cow elephant called Czita as its "official" psychic for the tournament, Ukraine's popular national 1+1 TV channel revealed a boar with alleged powers to predict sports results.
The channel said the boar, whose usual job is to inseminate sows, would leave its hut in Kiev wearing a Ukrainian football shirt, "climb a special rostrum and make his predictions on the outcome of football matches".
Sensing a popular theme, 1+1 TV then unveiled Fred, a "psychic" ferret from the city of Kharkiv. Fred will choose from plates of food with flags of competing teams. The bowl he eats from will be declared the favourite.
Ukraine's fourth-largest TV channel ICTV said the western city of Lviv would appeal to art lovers among Europe's football fans. It pointed out that Lviv, which will host the German and Portuguese teams, boasts "masterpieces by Monet, Courbet, Renoir and Dufy".
Lviv is also home to a number of breweries, ICTV said, judging that most football fans would be less interested in culture and more in the organised tours of the city's bars.
'Undress for success!'
Inter TV, one of the main channels, hit back at negative reporting on Dutch television. It said Dutch supporters should instead relax and admire the "many beauties" in Ukraine.
"It is true that Ukraine is famous for its beautiful women. It's a fact," the Ukrainian commentator said. "If you stroll the streets in the Netherlands, you will notice a big difference compared with Kharkiv or Kiev, especially in summer. Yes, this is one of the reasons for people wanting to visit Ukraine."
Meanwhile, 1+1 TV reported on a bid by the wives of Ukrainian footballers to boost both the country's image and the national team's morale.
Disrobing for a men's glossy magazine under the headline "Undress for success!" the wives and girlfriends posed in "patriotic" yellow and blue swimsuits, the colours of the Ukrainian flag.
Panorama's Euro 2012: Stadiums of Hate, first broadcast BBC One, Monday, 28 May is available in the UK on the BBC iPlayer
BBC Monitoring selects and translates news from radio, television, press, news agencies and the internet from 150 countries in more than 70 languages. It is based in Caversham, UK, and has several bureaux abroad. For more reports from BBC Monitoring, click here