Anders Breivik will not appeal against verdict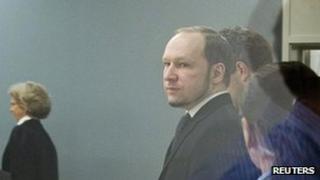 Anders Behring Breivik, who killed 77 people in attacks in Norway last year, has said he will not appeal against a guilty verdict if the Oslo court trying him finds him sane.
Breivik admits the murders but denies any guilt, saying he was defending Norway from multiculturalism.
He wants to be declared sane to prove he had rational, ideological motives.
If deemed sane, Breivik will be sent to prison. If not, he will be held in a psychiatric institution.
"There is absolutely no reason to appeal if I am declared criminally accountable," Breivik told the court on Thursday.
Breivik is charged with killing 69 people in a gun rampage at a Labour Party youth event on the island of Utoeya on 22 July, as well as eight people in a bomb attack in Oslo earlier that day.
The first of two contradictory psychological evaluations judged Breivik to be suffering from paranoid schizophrenia and legally insane. The second found him to be accountable for his actions.
If found both guilty and sane, Breivik faces up to 21 years in prison.
He says the attacks were "cruel but necessary" to stop the governing Labour Party's "multicultural experiment" and the "Muslim invasion" of Norway and Europe.
'Like Iraq'
On Thursday, the court continued hearing evidence from those who were wounded during the massacre on Utoeya, but survived.
One, wheelchair-bound Mohamad Hadi Hamed, 21, told the court how his left arm and his left leg were amputated after he was shot by Breivik.
The Iraqi-born Mr Hamed said: "For a minute I thought I was in Iraq because such a thing was impossible in Norway."
Another survivor, Einar Bardal, 17, described how he was trying to escape when he heard a loud bang, followed by a loud beeping noise in in his head.
He said he remembers telling those he was with: "I've been shot, tell mum I love her."
Addressing the court, Breivik, who has shown little emotion so far during the trial, acknowledged that the witness evidence is having an effect on him.
"It is my goal to not show emotion. I expend a lot energy on it," he said, admitting he felt "exhausted" after each day in court.
"Today I feel almost mentally damaged after having heard these testimonies," he said, adding that Thursday had been the worst day so far.