Chechnya profile - Overview
16 July 2015

From the section

Europe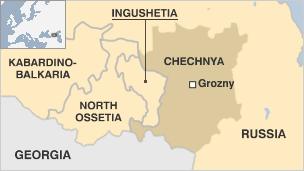 The southern Russian republic of Chechnya is surrounded on nearly all sides by Russian territory but also shares with neighbouring Georgia a remote border high in the Caucasus mountains.
Rich in oil, its economy and infrastructure were reduced to ruins by years of war between local separatists and Russian forces, combined with armed banditry and organised crime. Overview
Chechnya has been a thorn in Russia's mountainous southern border for nearly two centuries. The Russians finally overcame the resistance of Imam Shamil in 1859, claiming the Caucasus region for the empire after a long and bloody campaign that caught the imagination of many 19th Century Russian writers from Lermontov to Tolstoy.
The Chechens had to wait for more than 60 years before they briefly escaped Russian dominion again in the chaos following the October revolution.
However, that period of independence was short-lived and by 1922 the republic had been forced back into the Russian fold.
After World War II and the Nazi invasion, Joseph Stalin suspected the Chechens of collaborating and punished by mass deportation to Siberia and Central Asia. They were allowed to return only in 1957, under Stalin's successor, Nikita Khrushchev.
Post-Soviet years
When the Soviet Union collapsed in 1991, Dzhokhar Dudayev, a former senior officer in the Soviet air force, declared independence from Russia.
Moscow made repeated attempts to bring the separatist republic to heel, but these usually ended in humiliation for the country's weakened armed forces and the increasingly defiant separatists steadily gained ground.
When a poorly planned attempt at a lightning offensive by Russian forces in 1994 resulted in a mounting death toll and a public outcry in Russia, Moscow withdrew its forces under a 1996 peace agreement.
The deal gave Chechnya substantial autonomy without full independence, but Russia failed to invest in reconstruction and Chechen President Aslan Maskhadov could not control brutal warlords who grew rich by organised crime and kidnapping.
Holy war crushed
In August 1999, Chechen fighters crossed into the neighbouring Russian republic of Dagestan to support the declaration of an independent Islamic state in parts of Dagestan and Chechnya.
But the new Russian prime minister, Vladimir Putin, reacting quickly the rebellion was over in weeks.
After a series of apartment bombings across Russia later in the year were quickly blamed on the rebels by Moscow.
Mr Putin sent the army back to subdue the republic by force in a second brutal campaign which re-established central control over the republic
But low-level guerrilla warfare continues, with the occasional high-profile terrorist attack on targets in or outside Chechnya, usually in the form of suicide bombings, mass kidnappings or shooting attacks by gunmen.
A controversial referendum in March 2003 approved a new constitution, giving Chechnya more autonomy but stipulating that it remained firmly part of Russia. Some critics alleged that the republic was far too unstable to ensure a valid outcome.
Parliamentary elections in November 2005 saw the pro-Kremlin United Russia party win over half the seats. Separatist rebels dismissed the election as a charade.
Since then there has been increased investment in reconstruction projects and the shattered city of Groznyy has being rebuilt.
In April 2009, Moscow announced that the situation in Chechnya had improved to such extent that it felt able to end its military operation against the rebels.
Many accuse the pro-Moscow Chechen leader, Ramzan Kadyrov, of treating Chechnya as a personal fiefdom. His government faces accusations - which it denies - of suppressing media and other freedoms, as well as human rights violations, including kidnappings and torture.
There is concern that Chechnya effectively remains outside the ambit of Russian law, fanned by the arrest in 2015 of five Chechens - one with ties to Mr Kadyrov's security forces - in connection with the murder of Russian opposition politician Boris Nemtsov.