EU seeks fresh start with Turkey on membership bid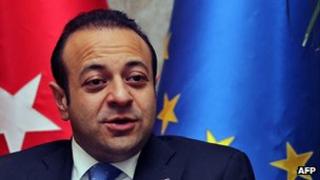 The EU's Commissioner for Enlargement, Stefan Fuele, is visiting Turkey in an attempt to give new impetus to Ankara's stalled bid to join the bloc.
Turkey opened accession talks with the EU in 2005, but they have been stalled for two years because some EU leaders oppose its membership and Turkey refuses to recognise Cyprus.
Both sides launched a new "positive agenda" in Ankara on Thursday.
The 27-nation EU is by far the largest consumer of Turkish exports.
"Our aim is to keep the accession process alive and put it properly back on track, after a period of stagnation which has been a source of frustration on both sides," Mr Fuele said in Ankara.
The BBC's Jonathan Head in Istanbul says the high hopes and euphoria that accompanied the start of Turkey's EU accession talks seven years ago have collapsed into a mess of mutual recriminations.
It has been two years since Turkey opened any new negotiating chapters out of the 35 it needs to complete before it can join the EU. Only one chapter has been finished, and more than half are blocked.
With Cyprus about to take up the rotating presidency of the EU, relations will be even more strained, our correspondent says.
Turkey does not allow ships or planes from Cyprus to use its ports and airports. The division of Cyprus remains a major sticking point, with the Turkish-controlled north of the island recognised only by Ankara.
Flourishing trade
But in many areas the EU and Turkey already co-operate closely, such as foreign policy and energy. Businesses have thrived on the EU-Turkey customs union.
Despite frustration at the slow progress most Turkish politicians still insist EU membership is a goal worth pursuing, even if they have to wait many years to get there, Jonathan Head reports.
Eight joint working groups will be set up to address specific chapters of Turkey's negotiations.
In a speech on Tuesday Mr Fuele highlighted the importance of Turkey's constitutional reform.
"A new civilian constitution can act as a catalyst and provide a basis for further progress as regards the respect for fundamental rights and freedoms in Turkey," he said.
He also called for the customs union to be modernised and expanded.
Former French President Nicolas Sarkozy was a prominent opponent of Turkey joining the EU. His successor Francois Hollande may be less hostile to Ankara's bid.
This week Turkish Foreign Minister Ahmet Davutoglu said that "with the coming to power of Mr Francois Hollande, we are all hoping that a new course in the Turkish-EU relations will gain momentum".
According to the news website euobserver.com, the EU's biggest embassy is in Ankara, with 137 staff. Next in terms of staff come the EU delegations to China (116) and Russia (102).
Turkey's European Affairs Minister Egemen Bagis says "the new Europe cannot be without Turkey".
"Until now, all countries that have started negotiations with the EU have become full members. Turkey will not be the first exception."