Mladic defence team wants 'biased' trial judge replaced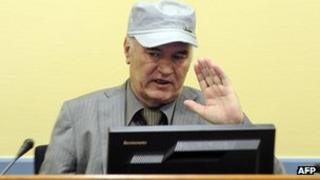 Lawyers representing the former Bosnian Serb commander Ratko Mladic have asked for the presiding judge at his trial to be replaced.
They say judge Alphons Orie is biased, and want the trial to be postponed.
Mladic's lawyers argue that judge Orie was involved in cases in which former subordinates of the ex-Bosnian Serb military chief were convicted.
The trial is due to start at the Yugoslav war crimes tribunal in the Hague on Wednesday.
The defence lawyers have also drawn attention to Judge Orie's Dutch nationality.
They claim this could influence him while hearing charges linked to the 1995 Srebrenica massacre, in which Dutch peacekeepers were accused of not doing enough to prevent the murders of more than 7,000 Bosnian men and boys.
They say the alleged bias is so serious "that disqualification of Judge Orie is the only way of preserving the integrity of the proceedings".
Those proceedings could now be delayed while the trial chamber reviews their arguments.