Turkey country profile
8 December 2015

From the section

Europe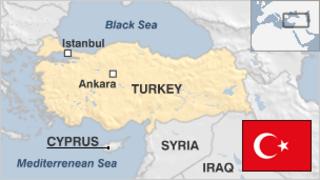 Once the centre of the Ottoman Empire, the modern secular republic was established in the 1920s by nationalist leader Kemal Ataturk.
Straddling the continents of Europe and Asia, Turkey's strategically important location has given it major influence in the region - and control over the entrance to the Black Sea.
Turkey's progress towards democracy and a market economy was halting in the decades following the death of President Ataturk in 1938.
The army saw itself as the guarantor of the constitution, and ousted governments on a number of occasions when it thought they were challenging secular values.
Joining the European Union has been a longstanding ambition. Formal membership talks were launched in October 2005, but progress has been very slow.
Several European countries continue to have serious misgivings over Turkish EU membership, and Germany and France have called for it to have a "privileged partnership" instead.
FACTS
Republic of Turkey
Capital: Ankara
Population 74.5 million

Area 779,452 sq km (300,948 sq miles)

Major languages Turkish (official), Kurdish

Major religion Islam

Currency Turkish lira
Getty Images
LEADERS
President: Recep Tayyip Erdogan
Recep Tayyip Erdogan was sworn in as president in August 2014, cementing his position as Turkey's most powerful leader.
His victory in Turkey's first popular presidential election capped 12 years as prime minister in which the economy tripled in dollar terms, while fuelling fears of growing authoritarianism.
Turkey is a parliamentary republic and the presidency largely ceremonial, so Mr Erdogan announced plans to amend the constitution to establish an executive presidency if his Islamist AK Party won a large majority in the June 2015 elections.
A strong showing by the new, pro-Kurdish left-wing People's Democratic Party (HDP), deprived the AK of its parliamentary majority and checked Mr Erdogan's ambitions, at least for the time being.
The AKP regained its majority in snap elections in November, after Mr Erdogan declared efforts to form a coalition had failed.
MEDIA
Turkey's airwaves are lively, with some 300 private TV stations - more than a dozen of them with national coverage - and more than 1,000 private radio stations competing with the state broadcaster, TRT. Television is by far the most influential news medium.
Powerful businesses operate press and broadcasting outlets; they include the Dogan group, the leading media conglomerate.
For journalists, the military, Kurds and political Islam are highly-sensitive topics, coverage of which can lead to arrest and prosecution. It is common for radio and TV stations to have their broadcasts suspended for airing sensitive material.
Some of the most repressive sanctions have been lifted as part of reforms intended to pave the way for EU entry. But it remains a crime to insult the Turkish nation. In 2012 and 2013, Turkey had more journalists in prison than any other country, the US-based Committee to Protect Journalists reported.
TIMELINE
Some key dates in Turkey's history:
1453 - Sultan Mehmed II the Magnificent captures Constantinople, ending Byzantine Empire and consolidating Ottoman Empire in Asia Minor and Balkans.
15th-16th centuries - Expansion into Asia and Africa.
1683 - Ottoman advance into Europe halted at Battle of Vienna. Long decline begins.
19th century - Efforts at political and economic modernisation of Empire largely founder.
1908 - Young Turk Revolution establishes constitutional rule, but degenerates into military dictatorship during First World War, where Ottoman Empire fights in alliance with Germany and Austria-Hungary.
1918-22 - Partition of defeated Ottoman Empire leads to eventual triumph of Turkish National Movement in war of independence against foreign occupation and rule of Sultan.
1923 - Grand National Assembly declares Turkey a republic and Kemal Ataturk president.
1928 - Turkey becomes secular: clause retaining Islam as state religion removed from constitution.
1938 - President Ataturk dies, succeeded by Ismet Inonu.
1945 - Neutral for most of World War II, Turkey declares war on Germany and Japan, but does not take part in combat. Joins United Nations.
1950 - First free elections won by opposition Democratic Party.
1952 - Turkey abandons Ataturk's neutralist policy and joins Nato.
1960 - Army coup against ruling Democratic Party.
1963 - Association agreement signed with European Economic Community (EEC).