Eurozone elections: Rejecting austerity at the polls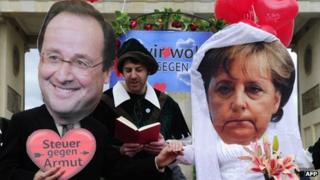 Events in France and Greece have unsettled the markets. Voters, given the chance, have turned against austerity. Cutting budgets has been Germany's main remedy for solving the debt crisis. Francois Hollande's election challenges that by making growth his priority.
In one of his victory speeches, he pledged to "finish with austerity". Today Germany was ruling out any significant shift in its approach.
There would be no renegotiation of the treaty enforcing budgetary discipline as Francois Hollande had called for.
The Germans do appear ready to attach a growth pact to the treaty but they will not accept countries borrowing more to boost spending.
Where might be the room for compromise?
The Germans would back funds from the European Union's structural funds supporting large-scale infrastructure projects.
They might agree to loosen some of the targets for reducing deficits.
The new French leader was told he would be welcomed with "open arms" in Berlin but it is not clear that Franco-German differences can be easily smoothed away.
The Germans will have to show some flexibility but they will not abandon insisting on tough new spending rules for the eurozone.
Uncertainty in Greece
In Greece voters were threatened that a vote against austerity could lead to their having to leave the euro.
It made no difference.
They were told that leaving the euro would usher in a period of "mass poverty". It did not deter them.
They are already facing years of hardship.
Spending cuts - with more yet to come - were a condition for receiving a second bailout from the EU and International Monetary Fund.
Politicians in Athens are now talking of renegotiating the bailout pact.
The Germans and the EU poured cold water on that. Greece faces a period of instability.
Once again Europe has a Greek problem.
Dissatisfaction spreading
Spain today saw its industrial output slump 7.5% from a year earlier, signalling that the downturn is deepening there.
Later this week the government in Madrid is likely to introduce new measures to help banks but fears are growing that the country will need some form of bailout - particularly for the banks.
In Italy, too, candidates opposed to austerity measures appear to have done well in local elections.
One candidate, Beppe Grillo, a comedian who wants to leave the euro, made big gains.
So in the eurozone there are open doubts as to whether the current policy is working while voters increasingly lose patience with spending cuts and hardship.