Serbs vote in closely fought national and local elections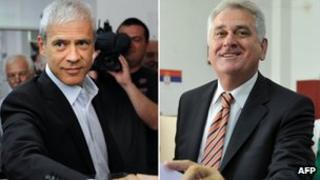 Voters in Serbia are voting in presidential, parliamentary and local elections.
Opinion polls suggest opposition candidate Tomislav Nikolic and liberal incumbent Boris Tadic are running neck and neck in the presidential race.
Mr Tadic stepped down as president last month, forcing an early presidential vote alongside the other polls.
Both men say they are committed to European Union membership for Serbia, which won EU candidate status in March.
However, Mr Nikolic, an old ally of the late Slobodan Milosevic, fiercely opposed the move just a few years ago.
The election is being fought primarily between two parties at the centre of the political spectrum, the BBC's Nick Thorpe reports from Belgrade.
As president, Mr Tadic oversaw Serbia's EU candidacy negotiations and has argued that success for him and his Democratic Party (DS) is vital for development and stability in Serbia over the next decade.
Economy
Mr Nikolic, who once said he would rather see Serbia ally itself with Russia than join the EU, has recently softened his nationalist rhetoric and chosen to attack the DS on its economic record.
Serbia is plagued by unemployment of 24% and foreign debt of 24bn euros (£19.5bn; $31.5bn).
"The economy is the most important issue at hand for all the voters, there's no question about that," Srdjan Bogosavljevic, from the Ipsos Strategic Marketing polling agency, told the Associated Press news agency.
"The economic situation is much worse than people have expected it to be."
Aleksandar Ristic, a 30-year-old with a small business in Belgrade, said people were "struggling to survive".
"People are fed up with them all," he added.
Opinion polls suggest Mr Nikolic's Serbian Progressive Party (SNS) may become the biggest in parliament, just ahead of the DS, but some kind of coalition with smaller parties is the likely outcome.
Mr Nikolic has said on the campaign trail that the SNS wants the EU and the jobs and investment it may offer.
But he added that Serbia could not give up its breakaway province of Kosovo in exchange.
If there is no outright winner in the presidential race, as seems likely, a run-off vote will be held in two weeks' time.