Sweden profile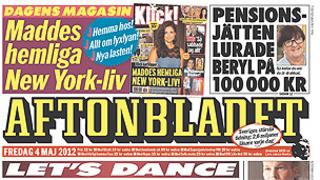 Swedish audiences enjoy a wide variety of public and commercial broadcast services.
TV is the most-popular medium. Public Sveriges Television's (SVT) main competitor is commercial network TV4. Sweden is home to the regional media giants Bonnier and the Modern Times Group (MTG).
Most households have multichannel cable or satellite TV. Sweden has made the switch to digital terrestrial TV (DTT) and pay TV is broadcast in the format.
Public radio is run by Sveriges Radio. There are nearly 100 private radios; some are part of near-national networks.
Most Swedish homes take a daily paper and the country is among the world's top consumers of newspapers. Aftonbladet is the best-selling daily. Many titles have a regional readership. The government subsidises newspapers regardless of their political affiliation.
By December 2011, around 8.4 million Swedes were online - more than 92% of the population.
The press
Television
Radio
News agency