Breivik trial hears how Norway massacre victims died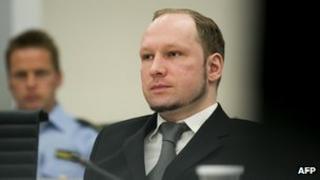 The court in the trial of Anders Behring Breivik has begun hearing coroners' reports for the 69 people killed in a youth camp massacre on Norway's Utoeya Island.
Coroner Torleiv Ole Rognum said the average age of the victims was 18.
Breivik listened impassively throughout as details of the deaths of the first nine victims were read out.
Lawyers for their families read out descriptions of those who died and showed pictures to the Oslo court.
One young girl, sitting just metres away from Breivik in the courtroom, listened to how her mother died.
Breivik 'unmoved'
Many of the relatives sobbed as the details were read out but reporters in court said Breivik remained aloof and apparently unmoved throughout as the coroner demonstrated how the bullets penetrated each body on a life-size doll.
Fighting back tears, the lawyer for the family of 17-year-old Lejla Selaci described her as much-loved by everyone.
"She spread laughter and happiness every day. She was known for fighting for fairness, solidarity and democracy. Her motto was: 'Be to others what you want others to be to you'," Thomas Benestad said.
Of the 69 people who died on the small island on 22 July last year, 67 were shot to death, one died in a fall and another drowned.
Most were hit by two or three bullets, though up to eight bullets had been found in one body.
The court was adjourned after just a few hours after nine coroners' reports had been discussed. The process of hearing reports is expected to continue for a further five days.
Deceit
On Thursday, the court heard how Breivik carried fake police identification papers in order to gain access to the island.
Ferry captain Jon Olson described how he helped Breivik carry a case on to the island which proved to be full of weapons.
His partner was one of the first to die.
Breivik's weapons included a Ruger Mini-14 Ranch rifle, equipped with a bayonet; a pistol and more than 1,000 rounds of ammunition.
He was also carrying a gas mask, a tourniquet, flashlight and three chocolate bars when he arrived on the island, police said.
Breivik, 33, has admitted killing eight people with a car bomb at government offices in Oslo and a further 69 at the Labour Party youth camp on Utoeya Island but has said he does not accept criminal responsibility.