Tributes to Norwegian swimmer Alexander Dale Oen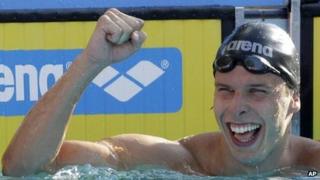 The death of 26-year-old Norwegian World Championship swimmer Alexander Dale Oen in the US has shocked his fans and the sporting community.
He was found collapsed in a shower after training in Flagstaff, Arizona, on Monday. Officials say he suffered a cardiac arrest.
Dale Oen won gold in the 100m breaststroke at the World Championships in Shanghai in July 2011.
Here is a selection of your comments and tributes to the athlete.
Haakon Brekke, Hamilton, New York
I met Dale Oen a few times, the most memorable of which was in Calella, Spain, on a training trip before the Norwegian Longcourse National Championships in the summer of 2010.
My Norwegian team (at that time Ovre Eiker Svomme Klubb), his team at the time, and other teams were using this hotel and pool facility.
My coach had given me the morning off, so I was in the elevator heading up to my room after breakfast.
Dale Oen was on the way down to go to practice. He either recognised me from the pool or assumed I was one of the Norwegian swimmers there on the training trip, and asked me jokingly what I thought I was doing and that I was heading the wrong way.
I felt like a deer in the headlights and was shocked and honoured that he would strike up a conversation with me.
I told him I had the morning off, and he said something like 'What is this, vacation?! Must be luxurious!', and then some other hilarious and more "guy talk" kind of comments.
I walked out of that elevator humbled to see someone of his rank be so casual and down to earth.
Rest in peace Alexander Dale Oen, you are and will always be "the man".
Other tributes
I worked with him to provide some rehab equipment during his stay in Flagstaff. One of the nicest, most vibrant athletes/people I have met. He really stood out as a special person. Shocking. Pete Odea, San Franciso, US
So sad to hear this news, he was an inspiration to so many. I met him briefly whilst on a training camp with my old swimming club in Cyprus and he was such a lovely guy. He was a fantastic role model in the swimming world and will be greatly missed. Catherine Holmes, Windsor, UK.
Such devastating news to the sport, especially where he was likely to be challenging for gold in London this summer. I was lucky enough to witness his gold medal winning performance last summer whilst out in Shanghai, which had to be one of the greatest swims of all time. Just days before his country had suffered the horrific attacks by Anders Behring Breivik, yet he was able to pull off this sensational performance, to bring back some sort of hope to his country. Incredibly inspiring guy, and a legend to the sport who will very much be missed! All other swimmers should look up to him, RIP Dale Oen. Matt, Wales.
He was a great inspiration for other Norwegian swimmers with such a friendly personality. He will be missed greatly. He moved the whole of Norway with his reaction to the 22 July bombings in Oslo after he had won gold, which he said he never got to celebrate properly. He will be missed! Millie, Oslo, Norway.
Today, Norway has lost one of the greatest modern athletes. He's been a great role model for our people, and he won the nation's heart when he won his gold medal last year and cried when our national anthem was played. This is a tragedy, and the whole of Norway cries today. Christine, Norway.
I never met Alexander Dale Oen personally, yet the sadness I feel at the news of his passing makes me feel like I did. I want to take this opportunity to just make it known how much of an inspiration this man has been to myself, and numerous other Norwegians. In the dark days following the twin attacks in Norway, this man made it possible for us to smile again; his achievement in the World Championships in Shanghai gave us a reason to be happy and proud. When he received his medal, and the Norwegian national anthem was played, we all cried with him. We will cry for you, Alexander Dale Oen, just like you cried for all of us. Alette Bjordal, Singapore.
An amazing person and simply one of our greatest athletes. Not only our greatest, but one of the world's greatest swimmers. Last summer, you cried for Norway. Today, Norway cries for you. Rest in peace, Alexander. Elin, Steinkjer, Norway.