Medvedev ends presidency facing probing TV interview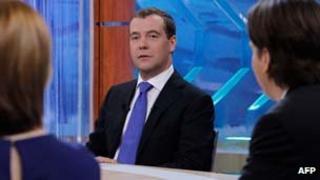 Dmitry Medvedev's last interview as Russian president before he hands on the post to Vladimir Putin on 7 May has turned out to be something akin to the grillings dished out to the leaders of Western democracies.
Previous interviews given by Mr Medvedev and Vladimir Putin to Russian TV channels have been characterised by a deference from those putting the questions.
Mr Medvedev's interview on 26 April was also notable for a complaint about TV censorship from one of the country's best-known news presenters.
Change of format
His final interview in the post was different in format from the earlier ones he has given during his four-year presidency.
Instead of taking questions only from the three big state-controlled channels (Rossiya 1, Channel One and Gazprom-owned NTV), he opened the floor to journalists from two smaller and more independent channels - Ren TV and Dozhd (Rain).
Ren TV is owned by a corporation said to have close ties to Putin, but over the past decade or so it has been the only terrestrial TV channel consistently to question and criticise the authorities. It was represented by Deputy Editor-in-Chief Marianna Maximovskaya, who is also the anchor of its most outspoken current affairs show, Nedelya (Week).
Dozhd is a niche liberal channel that was launched on the internet in 2010 and is now also available via some cable and satellite providers. It was represented by Editor-in-Chief Mikhail Zygar.
The focus on questions from liberal journalists was reinforced by Anna Shnayder (of VGTRK - the parent company of Rossiya 1) and Alexei Pivovarov (of NTV), who are widely regarded as two of the more independent-minded news presenters in the state media machine. They are also married to each other.
Last December, Mr Pivovarov is reported to have threatened not to appear on one of his scheduled bulletins unless it contained a report about a mass protest in support of fair elections.
The only solidly pro-Kremlin presence among the panel of journalists was Channel One correspondent Anton Vernitsky.
Interruptions
The different format and complexion of journalists produced a different style of interview.
After a slightly hesitant start, Mr Zygar was particularly active in quizzing Dmitry Medvedev on controversial issues.
He began by tackling him on corruption and the anti-corruption campaigns of opposition blogger Alexei Navalny. (Navalny is almost a taboo subject on state TV and Mr Medvedev managed to avoid uttering his name.)
Ms Maximovskaya followed this by challenging the president about the lack of a truly independent judiciary in Russia. She also mentioned the controversial case of imprisoned former Yukos CEO Mikhail Khodorkovsky.
Alexei Pivovarov then pressed Mr Medvedev about his decision not to pardon Mikhail Khodorkovsky.
And the conversation continued in this vein for much of the two hours that it lasted, with questions about alleged vote-rigging, the need for political reform, the unpopularity of Mr Putin's United Russia party, the controversy over the detention of members of feminist punk band Pussy Riot and Mr Medvedev's relationship with his successor.
At one point, the outgoing president complained that the interview was focusing only on political issues to the exclusion of social and economic affairs.
But it wasn't so much the choice of topics that made the interview stand out from its predecessors as the demeanour of his interlocutors.
For the first time, Russian viewers watched journalists crossing swords with the head of state and even interrupting him.
This was especially true of Mikhail Zygar, who, for example, clashed with Mr Medvedev about whether the new public TV station that he had recently announced would be truly independent.
Mr Zygar also cast doubt on whether taxpayers should be funding state channels that are "unable to keep citizens informed".
TV censorship
Alexei Pivovarov backed him up, praising the lack of censorship at Dozhd, but also speaking about his own experience of working at a channel where the "editorial policy is clearly controlled by the hand of the state".
He said: "As a journalist working on a federal TV channel, I often face restrictions that do not let me perform my professional duties to the full, let's say, to compete with Dozhd.
"These restrictions are imposed by what we know as political expediency. Apart from the artificial limitations of competition, this is really a limitation on my ability to perform my professional duty, that is, to inform the viewers about current events."
It was a brave statement, and could cost Mr Pivovarov his job.
There have been a number of high-profile departures from NTV recently, which have been linked to conflicts between liberal-minded journalists and producers, and a staunchly loyalist management.
Mr Medvedev responded by pointing out that censorship was forbidden under law, and yet adding that "expediency" was an internal matter for the media organisation in question.
It was typical of the evasive tactics that he used when pressed on controversial issues.
There was plenty of praise for Mr Pivovarov and his colleagues from opposition activists on Twitter, including from blogger Alexei Navalny.
But Mr Navalny also had a few, rare warm words for Dmitry Medvedev, tweeting that he had "done well to agree to an interview in this format".
BBC Monitoringselects and translates news from radio, television, press, news agencies and the internet from 150 countries in more than 70 languages. It is based in Caversham, UK, and has several bureaux abroad. For more reports from BBC Monitoring, click here