Slovakia country profile - Overview
22 April 2015

From the section

Europe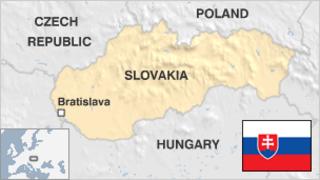 Right at the heart of Europe and with a history intertwined with that of its neighbours, Slovakia has proudly preserved its own language and distinct cultural traditions.
It was part of Czechoslovakia until the "velvet divorce" in January 1993.
Having uncoupled itself from its western neighbour, Slovakia at first struggled to prove itself as an independent democracy, but by the time of the twentieth anniversary of the "velvet divorce" in January 2013, it had come to be seen as one of Europe's biggest success stories.
The first five years after independence were marked by frosty relations with the European Union and Nato as a result of concerns over the Slovak leadership's democratic credentials.
There was growing international criticism of the lack of respect for minority rights and the democratic process shown by the authoritarian prime minister, Vladimir Meciar. Under Mr Meciar, the country's public debt ballooned and it was shunned by foreign investors.
He led a string of coalition governments pursuing nationalist and populist policies until October 1998, when an alliance of liberals, centrists, left-wingers and ethnic Hungarians ousted him, forming a new coalition with Mikulas Dzurinda as prime minister.
Under Mr Dzurinda, Slovakia underwent a complete change of direction. His government forged ahead with an economic reform programme and was rewarded with a boost in foreign investment. It also tried to improve the lot of minorities.
Slovakia's ethnic Hungarian community constitutes about a tenth of the country's population, and the status of this substantial minority has long been a source of tension between Slovakia and Hungary.
Mr Dzurinda's government oversaw Slovakia's entry into the EU and Nato in 2004, but the austerity measures it introduced made it unpopular with voters, and in 2006 it was replaced by a centre-left coalition led by Robert Fico.
Mr Fico's government relied on the support of the Slovak National Party, and his premiership was marred by controversy over treatment of the Hungarian minority. He lost the 2010 parliamentary election, but returned for a second term as prime minister after winning the 2012 election.
Slovakia also has a significant Romany population which suffers disproportionately high levels of poverty and social deprivation.
The post-war Benes decrees, which called for the expulsion of 3 million ethnic Germans and 600,000 ethnic Hungarians from then-Czechoslovakia and the confiscation of their property, remain a sensitive issue in relations with neighbours.