London 2012: German athlete Ariane Friedrich names 'stalker' online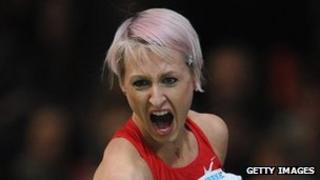 Star German high-jumper Ariane Friedrich has named an alleged stalker on Facebook, citing self-defence.
She posted the name and address of a man who had allegedly pestered her, sending her lewd photographs.
Ms Friedrich, who hopes to take part in the Olympics in London this summer, also filed a criminal complaint.
Thousands of people have weighed into a debate on her Facebook page about her actions, with some defending the alleged stalker's right to privacy.
The debate has the added complication that Ms Friedrich also works as a police officer.
"I've been offended in the past, sexually harassed, and I've had a stalker before," she wrote, after posting the details of the man who had allegedly sent her a photograph of his genitals in an email.
"It's time to act, it's time to defend myself. And that's what I'm doing. No more and no less. I'm not willing to be a victim again. I'm simply tired and there simply comes a time when enough is enough."
Her manager, Guenter Eisinger, said the case was now a matter for German prosecutors.
He admitted the incident might overshadow Ms Friedrich's preparations for the London Olympic Games, AFP news agency reports.
The 28-year-old from Frankfurt is the German high-jump record holder and won bronze at the 2009 world athletics championships and gold at the European Indoor championships in 2009.
In December 2010, she ruptured her Achilles tendon which ruled her out for the entire 2011 season including the world championships in Daegu, South Korea.