Poland profile - Leaders
27 October 2015

From the section

Europe
President: Andrzej Duda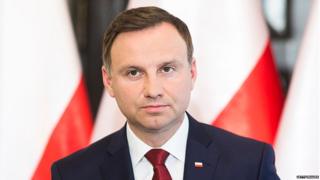 Andrzej Duda of the conservative, Eurosceptic Law and Justice Party, scored a surprise win in the 2015 election, beating the incumbent Bronislaw Komorowski of the centrist Civic Platform in the closest presidential contest in Poland's history.
Political observers attributed his victory to public dissatisfaction with Civic Platform's failure to boost employment and wages in line with continuing economic growth, and with a rise in the retirement age.
This dissatisfaction also saw Law and Justice win parliamentary elections in October with the first single-party overall majority in Poland's history as a democracy.
Born in 1972 and a law lecturer by profession, Mr Duda has been active in conservative politics since the early 2000s, rising to work in the Presidential Chancellery under Lech Kaczynski in 2008-2010.
He served in parliament in 2011-2014, winning praise for his bipartisan approach in the often highly-charged world of Polish politics, and was later elected to the European Parliament.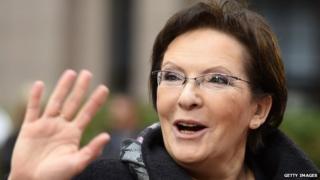 Prime minister (outgoing): Ewa Kopacz
Parliament Speaker Ewa Kopacz took over as prime minister in September 2014, replacing Donald Tusk who went on to become European Council president.
The centre-right coalition led by Civic Platform's Mr Tusk won a decisive victory in the October 2011 parliamentary election - the first time a sitting government was returned to office for another term since the reintroduction of democracy in 1989. The government pursued a policy of close cooperation with the European Union, and sought to use EU funds modernise Poland and privatise state enterprises.But public discontent with lagging living standards and with controversial rise in the retirement age saw the opposition right-wing Law and Justice Party win parliamentary elections in October 2015.