France ex-President Chirac 'to vote for Hollande'
17 April 2012

From the section

Europe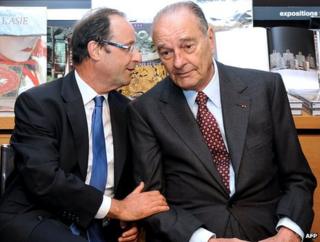 France's former centre-right president, Jacques Chirac, will vote for Socialist Francois Hollande in first round of presidential elections on Sunday, a close aide says.
Writer Jean-Luc Barre told a newspaper that remarks to that effect by Mr Chirac last year had not been a joke.
Mr Hollande has a double-digit poll lead over centre-right President Nicolas Sarkozy for the 6 May run-off.
Mr Chirac has criticised party colleague Mr Sarkozy in his memoirs.
Last July, he said he would vote for Mr Hollande, but later implied he had been joking, following criticism from political associates.
At the time, analysts suggested Mr Chirac was taking revenge for perceived slights.
"Jacques Chirac is true to himself when he says he will vote for Francois Hollande," Mr Barre, who helped Mr Chirac write his memoirs, told the Le Parisien newspaper in remarks published on Tuesday.
"I visit him frequently; we have lunch and dinner together. After four years of discussions, I believe I'm one of those who knows best how he thinks."
A report in Le Parisien suggests the issue has divided Mr Chirac's family. The former president's son and daughter are reportedly following their father in leaning towards Mr Hollande, while his wife, Bernadette, has appeared at rallies in support of Mr Sarkozy.
Strained
Relations between Mr Chirac, who was president from 1995 to 2007, and his successor and one-time ally, Mr Sarkozy, are long thought to have been strained.
Mr Chirac is thought to resent Mr Sarkozy, whom he knows since his days as mayor of Paris, for failing to support him in the 1995 election in which he became president.
For his part, Mr Sarkozy, after his re-election in 2002, made fun of the older man's love of Japan and sumo wrestling.
An Ipsos poll published on Monday had both Mr Sarkozy and Mr Hollande neck-and-neck on 27% for Sunday's first round.
But the survey gave Mr Hollande a 12-point lead over Mr Sarkozy for a widely expected second-round run-off between the two men.
On Sunday, both candidates held mass rallies in the capital Paris in a final push for votes a week ahead of the first round.
Mr Sarkozy promised economic growth if re-elected and warned that the alternative was "depression", while Mr Hollande told the crowd at his rally that it was time for change.
The president faced media criticism after a video emerged in which he is seen quickly slipping off an expensive watch while shaking supporters' hands at his rally.
Some commentators accused him of giving the impression that he feared someone would steal the timepiece, variously thought to be from the luxury brands Rolex or Patek Philippe.
'True statesman'
In memoirs published last year, Mr Chirac mocked Nicolas Sarkozy, who belongs to the same conservative UMP party. He described him "irritable, rash, overconfident and allowing for no doubt, least of all regarding himself".
"We do not share the same vision of France, we do not agree on the basics," Mr Chirac wrote.
Meanwhile, the memoirs described Francois Hollande as a "true statesman" capable of crossing party lines.
Both Mr Chirac and Mr Hollande have links to the department of Correze, in south central France. The former president's parents are from Correze, while the Socialist started his political career there.
Mr Hollande currently heads the department's General Council, and in 1981, he unsuccessfully stood for election to the National Assembly in the department - losing to none other than Mr Chirac.