Russian opposition MPs snub Putin with walkout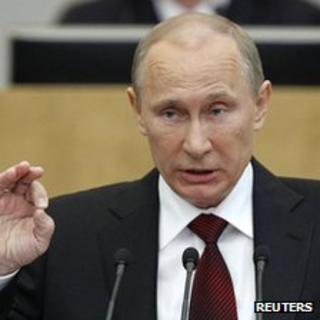 A Russian opposition party has walked out of parliament after a speech by President-elect Vladimir Putin which called for political unity.
The walkout by A Just Russia came after Mr Putin said Oleg Shein, the party's mayoral candidate in the city of Astrakhan, should have gone to court instead of launching a hunger strike.
Mr Shein, who lost in the 4 March elections, alleges electoral fraud.
It is the first time a whole party has walked out while Mr Putin was speaking.
The protest by nearly all the party's 64 MPs came during a question-and-answer session in the lower house (Duma).
In his speech earlier Mr Putin admitted the presidential election had left some "echoes of heightened emotions".
He served as president in 2000-2008 and will be sworn in for a third term - this time for six years - on 7 May.
Mr Shein's cause has been taken up by Russian opposition activists including the influential anti-corruption blogger Alexei Navalny.
Mr Putin answered a question from A Just Russia with the words: "As far as I know, your colleague Oleg Shein has started a hunger strike but did not appeal to court. This is a bit strange. Why go on hunger strike?"
"Maybe the court will sort it out and everybody will agree with the outcome. It seems to me that they have to go to court."
A Just Russia argues that the Astrakhan courts cannot be trusted to investigate the electoral fraud allegations fairly. Mayoral elections were held on the same day as the presidential election.
Mr Putin's election was also overshadowed by allegations of widespread fraud. Independent election monitors - both Russian and international - complained of irregularities.
Appeal for unity
In his last speech to parliament as prime minister Mr Putin said "the logic of mature democracy is that elections finish and... joint work always begins."
"We have one Russia, and its modern, advanced development must be the goal that unites all the country's political forces that want to work to build it," Mr Putin said in the televised speech on Wednesday.
He also said the growth in Russia's population was a positive sign.
Russia's population was growing again after years of decline, he said, and was now above 140 million. This year Russia will have 15 cities each with more than a million people, he added.
And he said more Russian couples were choosing to have a second or even a third child.
But he voiced concern about the income gap between rich and poor in Russia.
"The gap is not closing, and we need to pay great attention to that."
In Germany and France the richest are five to seven times better off, whereas in Russia the figure is 15 times, like in the US, he said.
Despite the "colossal challenge" of the 2007-08 global financial crisis, average incomes had risen in Russia, Mr Putin said.
He called the global turmoil "far more large-scale and far more dangerous than the 1998 crisis", but said Russians "showed that we are a mature, creative, confident nation with inner vital strength".