Putin announces competition to find Russia's best workers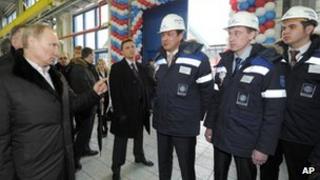 Vladimir Putin has announced a new Soviet-style competition to find Russia's best workers.
Russia's president-elect told a cabinet meeting that there would be cash prizes for the winning welder, stone mason, electrician, miner and lorry driver.
The Ministry of Health and Social Development has apparently already started selecting regional candidates through employers and trade unions.
The competition echoes Soviet schemes to motivate government workers.
In the old Soviet Union, the best workers got cash bonuses and had their achievements trumpeted on honours boards.
The most famous of these was miner Alexei Stakhanov, who set a record for coal extraction in 1935.
In Vladimir Putin's 21st Century version, the winner in each category will win 300,000 roubles (£6,385), with second and third place prizes of 200,000 and 100,000 roubles.