Latvia profile - Leaders
11 June 2015

From the section

Europe
President: Raimonds Vejonis
Raimonds Vejonis was elected in June 2015 after five rounds of voting in Latvia's fractured 100-member parliament.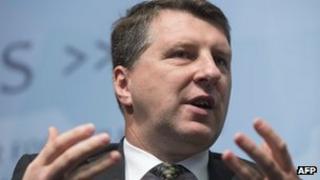 Mr Vejonis's previous position as defence minister was seen as a possible advantage in dealing with the heightened military and political tension with neighbouring Russia.
After his election, he promised to improve national security.
He is Europe's first Green head of state, although Latvia's Greens are seen as centre-right on the European political spectrum, while elsewhere they are generally regarded as being centre-left.
Although generally a ceremonial position, Latvia's president can veto legislation, call referendums and has some leeway in nominating the prime minister for parliamentary approval.
Prime minister: Laimdota Straujuma
The centre-right coalition led by Laimdota Straujuma won a clear majority in Latvia's general election of October 2014, a poll dominated by concern about Russia's intervention in Ukraine and its influence in the Baltic region.
The coalition parties won at least 61 seats in the 100-seat parliament. Harmony, a leftist party allied with the Kremlin party United Russia, got 24.
Laimdota Straujuma became Latvia's first female prime minister in January 2014 following the resignation of Valdis Dombrovskis in November 2013.
The technocratic Ms Straujuma was already serving in a non-party capacity as agriculture minister - a key post in a country with a strong farmers' lobby - but joined Mr Dombrovskis's conservative Unity party after it nominated her for the post of prime minister.
Following elections in October 2014, she continued in office at the head of a broad coalition of three centre-right parties.
As in previous elections, the social democratic Harmony party, which is mainly supported by Latvia's Russian-speaking minority, topped the polls despite losing votes, but was excluded from government because of suspicions about its links with Moscow.
Ms Straujuma vowed to continue Mr Dombrovskis' austerity-oriented economic policies in the run-up to the October 2014 general election.
Her predecessor pushed through some of the toughest austerity measures in Europe in an effort to rescue the state from bankruptcy and prepare Latvia to join the euro by 2014.
Having fallen into a severe recession in 2008-9, during the global financial crisis, the Latvian economy made a strong recovery and by 2013 was the EU's fastest-growing.
Born in 1951, Ms Straujuma trained as an economist. She became a senior civil servant in the agriculture ministry in 1999, and was made its minister in 2011.