Iceland country profile
15 July 2016

From the section

Europe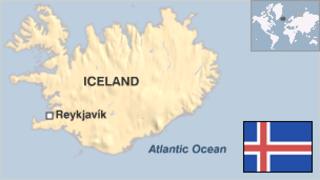 A sparsely-populated North Atlantic island, Iceland is famous for its hot springs, geysers and active volcanoes. Lava fields cover much of the land and hot water is pumped from under the ground to supply much of the country's heating.
Iceland became an independent republic in 1944 and went on to become one of the world's most prosperous economies. However, the collapse of the banking system in 2008 exposed that prosperity as having been built on a dangerously vulnerable economic model.
The affluence enjoyed by Icelanders before 2008 initially rested on the fishing industry, but with the gradual contraction of this sector the Icelandic economy developed into new areas.
FACTS
Republic of Iceland
Capital: Reykjavik
Population 328,000

Area 103,000 sq km (39,769 sq miles)

Major language Icelandic

Major religion Christianity

Life expectancy 80 years (men), 84 years (women)

Currency krona
Getty Images
LEADERS
President: Olafur Ragnar Grimsson
Mr Grimsson was re-elected president in 2012 for a record fifth term, having first been elected in 1996.
An academic political scientist by profession who studied at the University of Manchester in England, Olafur Ragnar Grimsson was elected to parliament for the left-wing People's Alliance in 1978 and served as finance minister in a coalition government in 1988-1991.
He often speaks out on controversial issues, and his relations with the conservative Independence Party - the dominant party in Icelandic politics until 2009 - has been uneasy.
President-elect: Gudni Johannesson
University historian Gudni Johannesson won Iceland's presidential election in June 2016 on his 48th birthday.
He secured 39.1 per cent of the vote, ahead of Halla Tomasdottir, a private equity executiv, on 27.9%.
A political outsider, he campaigned for the largely ceremonial post by pledging to restore Icelanders' faith in their system of government after years of public dissatisfaction with politicians first sparked by the country's banking collapse in 2010.
Mr Johanesson succeeds Olafur Ragnar Grimsson when he steps down in August 2016 after 20 years.
Prime minister: Sigurdur Ingi Johannsson
Iceland's ruling centre-right coalition named Mr Johannsson as the country's new prime minister after Sigmundur Gunnlaugsson stepped aside from the post in the wake of revelations contained in leaked documents from the Panama law firm Mossack Fonseca, which showed that Mr Gunnlaugsson had failed to declare his co-ownership of an offshore firm when he became an MP in 2009.
Mass demonstrations were held outside the Icelandic parliament building when it emerged that Mr Gunnlaugsson had failed to disclose a potential financial conflict of interest, arising from the fact that the offshore company he co-owned with his wife until after he entered parliament had a stake in several failed Icelandic banks.
Both Mr Johannsson and Mr Gunnlaugsson are members of the Progressive Party - of which Mr Gunnlaugsson continues to be the leader - which has governed in coalition with the conservative Independence Party since the 2013 parliamentary election.
The two centre-right parties came to power after voters became disillusioned with the Social Democrats, who won the 2009 election but faced an uphill task in rebuilding the Icelandic economy following the catastrophic collapse of the country's main banks in the wake of the 2008 global financial crisis.
The coalition government has promised to hold early elections in the autumn. In the meantime, it has vowed to push ahead with a plan to phase out the capital controls imposed after the collapse of the banks.
MEDIA
National radio and TV is provided by the Icelandic National Broadcasting Service (RUV), a public-service broadcaster owned by the state.
The RUV is obliged to promote the Icelandic language and the nation's history and cultural heritage. Its services are funded by a licence fee, and by advertising revenues.
Press titles include privately-owned and party-affiliated newspapers. The constitution guarantees press freedom.
TIMELINE
Some key dates in Iceland's history:
1918 - Iceland achieves full self-government under the Danish crown.
1940 - German forces occupy Denmark. British forces occupy Iceland.
1941 - The United States takes over the defence of Iceland and stations tens of thousands of troops there.
1943 - The Treaty of Union with Denmark runs out, with Denmark still occupied by Nazi Germany.
1944 - Icelanders vote in a referendum overwhelmingly to cut all ties with Denmark and become a republic. The Republic of Iceland is proclaimed.
1944 - Iceland becomes a member of Nato.
1970 - Iceland joins European Free Trade Association (EFTA).