Hungary profile - Leaders
15 September 2015

From the section

Europe
President: Janos Ader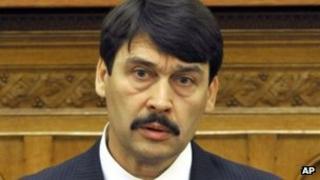 A lawyer and member of the European Parliament for Hungary's governing Fidesz party, Janos Ader was elected President of Hungary in 2012 in a parliamentary vote that was boycotted by the main opposition Socialist Party. The far-right Jobbik party voted against him, but the large Fidesz majority guaranteed his win.
Mr Ader took over from Pal Schmitt, another Fidesz loyalist who was forced to resign after a Hungarian magazine revealed that his 1992 doctoral thesis was extensively plagiarised.
The new president, born in 1959, was a co-founder of Fidesz and took part in the talks that brought an end to Communist rule. He served as an MP in 1990-2009 and was speaker of parliament in 1998-2002.
He is closely associated with the controversial policies of Prime Minister Viktor Orban, and helped draft changes to election laws and the role of the judiciary that prompted complaints from the European Commission.
Prime minister: Viktor Orban
Mr Orban scored his third election victory in April 2014, when the coalition led by his conservative Fidesz party gained more than 44% of the vote, giving it an 18% lead over the Socialist-led opposition alliance.
He first served as prime minister from 1998 to 2002, then had an eight-year spell in opposition before reclaiming the premiership in 2010. Fidesz's landslide election victory that year came in the wake of the global financial crisis of 2008, which showed Hungary to have been over-reliant on foreign capital as a means of funding a large budget deficit.
Badly hit by the crisis, Hungary had no option but to turn to the International Monetary Fund for assistance, and the Socialist government was forced to implement a deeply unpopular programme of austerity measures.
The Fidesz-led coalition's triumphant two-thirds majority in the 2010 election allowed it to push through a number of radical changes.
The lesson Mr Orban drew from the financial crisis was that Hungary had to become more self-reliant, and to this aim he adopted "unorthodox" economic policies designed to tackle the severe public debt and reduce the country's dependence on foreign capital.
He introduced controversial measures aimed at bringing key parts of the economy - including the banks, utilities and the media - back under domestic ownership, and imposed heavy windfall taxes on the mostly foreign-owned energy companies.
Some critics say that Mr Orban's policies have damaged the economy by driving away foreign investment, and point to the fact that around 4 million Hungarians - out of a population of 10 million - are thought to live at or below the poverty line, and that half a million have emigrated in recent years.
However, the taxes on energy companies have allowed the government to introduce big utility price cuts for households, a move thought by many analysts to have played a key part in Fidesz's re-election in 2014.
Many of Mr Orban's policies have been implemented in defiance of the international financial institutions and what he likes to refer to as the "Brussels bureaucrats".
Mr Orban has been able to turn this outside criticism to his advantage by appealing to nationalist sentiment and playing to an element in the national psyche that sees Hungarians as engaged in a perpetual struggle against foreign domination.
In this respect, Mr Orban's message has been directed at a similar constituency as that targeted by the far-right Jobbik party, which in the last few years has seen a steady increase in its support and in 2014 became the second-largest political party in the country.
Though the inflammatory anti-Roma and anti-Jewish comments of some Jobbik figures have provoked outrage, the party has recently adopted the tactic of toning down its rhetoric in order to woo mainstream voters.
Jobbik's strategy for luring disillusioned Fidesz voters appeared to have reaped dividends when the party won its first parliamentary district in a by-election in April 2015.
Democratic concerns
A media law introduced in January 2011 was widely criticised at home and abroad for undermining media freedoms. The EU said that amendments to the media law passed in May 2012 failed to address concerns over the political independence of Hungary's Media Authority, and it called on the Hungarian government to do more to ensure media pluralism.
At the beginning of 2012, Mr Orban's government introduced a new constitution to replace the one drafted in 1989, when Hungary was emerging from 40 years of communist rule.
Mr Orban insisted that a new constitution was necessary in order to complete the work of eradicating the legacy of communism, but critics pointed out that some of the checks and balances essential for the healthy functioning of a democracy had been removed, and that the changes curtailed civil liberties, harmed free speech and cemented Fidesz's hold on power.
Mr Orban rejects such charges, insisting that Hungary's unique character and history mean that the nature of Hungarian democracy is necessarily different from that in other countries.
However, a key speech he gave in July 2014, in which he said that liberal democracy has had its day and that some "illiberal" states such as Russia and China provide Hungary with more appropriate models, did little to allay the concerns of his critics.
Since then, Mr Orban's efforts to forge a special relationship with Russian President Vladimir Putin - despite the disapproval of Hungary's allies in the EU and Nato - have seriously dented his popularity at home.
Mr Orban maintains that Hungary needs to cultivate friendly relations with Russia in order to ensure its energy security, but many Hungarians have unhappy memories of the period when their country was a Soviet satellite state and have serious reservations over this aspect of the leadership's foreign policy.
Fidesz approval ratings began to fall steeply during the second half of 2014, and Mr Orban suffered a major setback in February 2015 when his party lost a key by-election in what had previously been a safe Fidesz seat to an independent candidate and at the same time lost its two-thirds majority in parliament for the first time in five years.
Jobbik's by-election victory in April 2015 further reduced Mr Orban's majority and underlined the growing unpopularity of Fidesz.