Belgium coach crash: Poignant ski holiday blog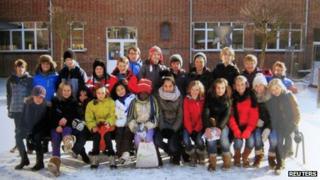 Pupils at St Lambertus, one of the schools caught up in the horrific coach crash in Switzerland, had kept a blog about their skiing holiday.
Hours after the crash, it was still online, showing photos of happy 11- or 12-year-olds - trying out skis under a blue sky, having a barbecue, fooling around in fancy dress, dressed up for a "casino night".
Before it was removed, journalists had retrieved the messages, building up a picture of a "mega-cool" trip for children in their final year of primary school, and their teachers.
Frank Van Kerckhove, the teacher who set the Dutch-language blog up, wrote the first entry himself, early last week: "The bus trip was very smooth.
"There was little traffic. We watched the movie Avatar [and] no-one became car-sick on the climb [into the Alps]."
Thus began the holiday, an annual highlight for St Lambertus children, according to the Associated Press news agency.
'Totally the best'
Under Mr Van Kerckhove's tutelage, pupils talked about anything from the food - "soup and ravioli, very delicious", as one girl reported - to a clean room competition.
"Today was totally the best," a girl wrote.
"The adventurous walk was tiring, but mega-cool. We won first prize for cleanest room. Tomorrow it's going to be colder. Byyyeeee!"
"Things are super here in Saint-Luc," wrote a boy.
"The skiing, the weather, the food. It's not bad at all. Tomorrow I play in the Muppet Show...
"I have seen quite a few dogs. I'm now reading the book 'Why Dogs Have Wet Noses'. Very interesting! I miss you all."
Towards the end of the nine-day trip, homesickness began to come through the children's messages.
"Dear mama and papa," posted one pupil. "I like it here a lot, but I miss you. Love you. Kisses."
"Hey, mama, papa," wrote another. "It is super here and the sun shines the whole day. But I do miss you! XXX."
'We'll be back'
The fun went on. An entry by an adult, quoted by Swiss newspaper Tribune de Geneve, read: "The children used plastic bags to slide about today."
On Sunday, Mr Van Kerckhove wrote what was to be his last entry: "Tomorrow will be a busy day and I do not know if I can write a blog posting.
"But on Wednesday we'll be back, all of us."
He was among the six adults and 22 children killed in the crash.
At the gate of St Lambertus, in Heverlee outside Leuven, drawings and other tributes from pupils appeared.
"Master Frank is the best," said one message. "Year Six are the best," read another.