Finland profile - Leaders
9 March 2015

From the section

Europe
President: Sauli Niinisto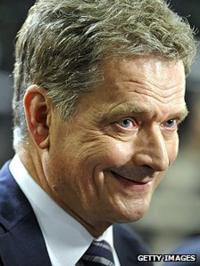 Sauli Niinisto won the presidential election of February 2012 to become the country's first conservative head of state in five decades.
He is the first president from the conservative National Coalition Party since 1956, and the first in 30 years from a party other than the Social Democrats.
The victory of the pro-Europe politician suggested to observers that voters wanted to keep the country in the eurozone despite misgivings over European Union bailouts.
Mr Niinisto is credited with leading Finland's economy towards growth following the collapse of the Soviet Union, during his tenure as finance minister from 1996 to 2001.
Finland's president has a largely ceremonial role with fewer powers now than in previous decades, and is not directly involved in daily politics.
However, the head of state is seen as an important shaper of public opinion, takes the lead on non-EU matters of foreign policy and plays a role as a "brand ambassador" of Finland overseas.
Mr Niinisto succeeded President Tarja Halonen, who was elected as the country's first female president in 2000 and re-elected in 2006.
Prime minister: Alexander Stubb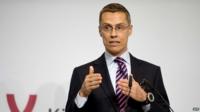 Alexander Stubb became prime minister in June 2014 after replacing his predecessor, Jyrki Katainen, as leader of the main governing National Coalition Party.
Earlier, Mr Katainen had announced he would not be seeking the conservative NCP's leadership again in order to seek a high-level EU job.
Previously Mr Katainen's European affairs and trade minister, Mr Stubb took over at the head of the same five-party grand coalition with less than a year to go before new elections are due.
The governing alliance shrank down to four after the Greens left in September 2014 in response to the government's decision to approve a nuclear plant to be built by a consortium partly owned by Russian state atomic energy corporation, Rosatom.
With Finland's economy languishing in recession for two years running, his incoming government announced a stimulus plan of tax cuts and infrastructure investments worth about 1.1bn euros (£900m).
The programme contrasts with Mr Katainen's efforts to combat Finland's high public debt - expected to be over 60% of economic output in 2014 - with austerity.
Mr Stubb is a strong advocate of the EU and has strongly liberal economic views. He has vowed to cut taxes and has come out in favour of traditionally neutral Finland joining Nato.
Mr Stubb's grand coalition includes three other parties from the left and centre, including the Social Democrats - the second largest party in parliament.
The main opposition party is the populist True Finns party, which refused to join the government in protest at its support for a bailout for Portugal during the debt crisis.