Finland country profile - Overview
23 April 2015

From the section

Europe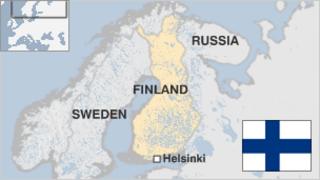 Finland is a country in the far north of Europe, bordered by Norway, Sweden and Russia. Unlike their fellow-Scandinavian neighbours to the west, the Finns are not a Germanic people but rather speak a language related to Estonian, some languages of Siberia and, more distantly, Hungarian.
Despite its substantial size, Finland is relatively thinly-populated. Around two-thirds of its territory is covered by forest and about a tenth by lakes.
Hundreds of years of Swedish rule were followed by a further century of Russian control before independence in 1917. This failed to stem the demands of Finland's giant Soviet neighbour, and World War II saw fierce fighting along Finland's eastern border.
Finnish troops mounted a vigorous response to Soviet forces and stalled their advance, but the country was eventually forced to cede 10% of its territory and pay extensive war reparations to Moscow.
Throughout the Cold War Finland's neutrality depended on a de-facto Soviet veto on its foreign and defence policy, a status dubbed "Finlandisation".
The collapse of the Soviet Union in the early 1990s allowed Finland to step out of the Cold War shadow. It applied for membership of the EU soon after its friendship treaty with the Soviet Union became void in 1991, becoming a full member in 1995.
Finland is the only Nordic EU member to use the euro as the national currency.
The country spends heavily on education, training and research - investment which pays dividends by delivering one of the best-qualified workforces in the world.
---
Finland: At a glance
Politics: Finland is a parliamentary republic, with main most executive power vested in the prime minister and cabinet. Multi-party coalitions are the norm. The president has some powers relating to foreign policy.
Economy: A eurozone member since 2002, Finland has an export-driven economy. Once Finland's top success story, phone maker Nokia, is in decline.
International: Finland is one of four EU countries not in Nato. Its military is active in peacekeeping operations
Country profiles compiled by BBC Monitoring
---
This has been a key factor in the development of a modern, competitive economy in which an advanced telecommunications sector has been added to the traditional timber and metals industries.
But more recently, Finland's economy has struggled with a decline in the important electronic, ship-building and paper industries. In particular its main success story of recent decades, mobile phone giant Nokia, has suffered a steep decline in business.
In terms of culture, Finland has made a particular mark in the fields of architecture and music, with the buildings of Alvar Aalto and the symphonies and tone poems of Jean Sibelius enjoying worldwide renown.