EU criticises Standard & Poor's ratings downgrade
14 January 2012

From the section

Europe

comments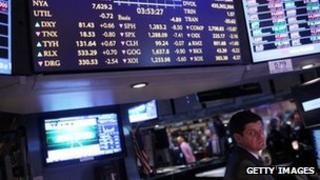 The EU's top economic official has criticised a decision by Standard and Poor's to downgrade the credit ratings of nine eurozone countries.
Economic affairs commissioner Olli Rehn said the move was "inconsistent" as the eurozone was taking "decisive action" to end the debt crisis.
Other senior European officials have also hit out the move.
The downgrade - which included stripping France of its top AAA rating - was announced on Friday.
Italy, Spain, Cyprus and Portugal were cut two notches, with the latter two given "junk" ratings. Germany kept its AAA rating.
Austria, Slovakia, Slovenia and Malta were the other countries downgraded.
Standard and Poor's criticised the bloc's response to the crisis, saying austerity and budget discipline alone were not sufficient to fight it, and risked becoming self-defeating.
'Keep your cool'
Mr Rehn said he "regrets'" the decision taken by S&P's, saying the euro area has taken "decisive action in all fronts of its crisis response'' and was making progress in calming financial markets.
"It is now important to finalise as soon as possible the features and practicalities of the European Stability Mechanism and... to advance its entry into force to July," he said.
The European Stability Mechanism is the eurozone's permanent rescue fund.
French Finance Minister Francois Baroin said the loss of the triple-A rating was "not a catastrophe'' and stressed that France still had a solid AA+ rating.
"The United States, the world's largest economy, was downgraded over the summer,'' he said on France-2 television. "You have to be relative, you have keep your cool. It's necessary not to frighten the French people about it.''
Eurogroup President Jean-Claude Juncker said eurozone countries are determined to do "whatever it takes'' to return to growth.
Meanwhile, talks aimed at negotiating a restructuring of Greece's debts broke down on Friday, raising fears once again of a possible default.
Stocks fell on Friday as downgrade rumours reached trading floors in Europe and the US.
The Dow Jones industrial average in New York was down 0.5%. Stocks fell 0.6% in Germany, 0.5% in Britain and 0.1 in France.
Earlier on Friday, the euro hit a new 16-month low against the dollar amid speculation ahead of the move, before rebounding.
Bailout fund
On Friday, S&P's said France was being downgraded one notch, to AA+. The country still has a top AAA rating from the other two main ratings agencies, Moody's and Fitch.
Austria, like France has lost its top AAA rating, and been downgraded to AA+. Its economy exports a lot to recession-struck Italy, while its banks are facing losses on subsidiaries they own in financially troubled Hungary.
S&P's rating of Italy - currently at the epicentre of the crisis - has been cut two notches from A to BBB+.
Spain was also cut two notches from AA- to A, as was Portugal, whose rating fell from BBB- to a "junk" rating of BB - indicating a very high level of risk for lenders.
Apart from Germany and lower-rated Slovakia, all the other countries being reviewed were given a "negative outlook", meaning there is a 30% chance of a further downgrade.
Credit ratings are used by banks and investors to decide how much money to lend to particular borrowers.
The cut in the so-called sovereign ratings of governments is likely to lead to most other borrowers domiciled in the same countries - including banks and companies - being downgraded.
Although the move has been widely expected, it is still likely to make it somewhat more difficult and expensive for borrowers from those countries to raise money, including for the governments themselves.