Profile: Hungarian Prime Minister Viktor Orban
3 January 2012

From the section

Europe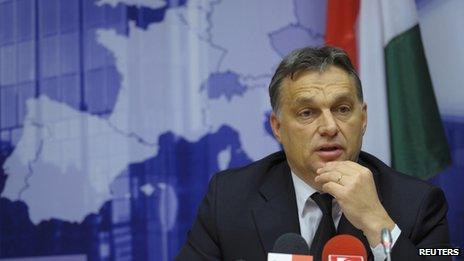 Viktor Orban forged the strongest government in Hungary since the fall of communism but his democratic and economic credentials are increasingly in question.
As a young lawyer, he attracted attention on 16 June 1989 by publicly demanding the withdrawal of Soviet forces and the holding of free elections.
But as prime minister he has been dubbed a dictator - "Viktator" - by protesters at one of the biggest rallies in years by opposition and civil liberties groups.
Thousands massed on 2 January outside the Budapest opera house to condemn changes to the constitution while Mr Orban and his allies celebrated the amendments inside with a gala.
Some view him as a pragmatist; he himself insists he is providing strong, stable political leadership, with policies that reduce bureaucracy and empower individuals as responsible members of society.
Another taunt shouted by the crowd was the word "bovli", or "junk" in Hungarian, mocking the downgrading of the country's credit rating under his premiership.
Mr Orban has alarmed Hungary's foreign partners with his unorthodox economic policies, particularly a public battle with his own central bank.
Soros student
When he made his speech against the Soviet military presence, Viktor Orban was barely 26 years old.
According to the CV posted on the official prime ministerial website, he had graduated in law two years earlier and was already a member of the Federation of Young Democrats (Fidesz), which he would eventually make Hungary's party of government.
He was also a member of the Central-Eastern Europe study group, a programme financed by the Soros Foundation, and went on to study the history of British liberal political philosophy at Oxford University.
He was becoming, as his CV would have it, "a politician well-known throughout the Western world for his commitment to an independent and democratic Hungary free of privileges".
However, even at that early stage, there were critics who saw in Viktor Orban a political opportunist.
His speech, delivered at a ceremony to mark the reburial of Hungarians killed in the 1956 uprising against Soviet domination, is held up by some as a brave call to arms for democracy.
But Laszlo Rajk, a leading dissident at the time, accuses Mr Orban of breaking an agreement not to bring contemporary politics into the event.
"Orban went back on this promise and misused the reburial to launch himself onto the political stage," Mr Rajk was quoted as saying in an Emerging Markets profile of the Hungarian prime minister.
On 2 January, Mr Rajk and other former dissidents published a letter attacking Viktor Orban's record in government entitled "The decline of democracy - the rise of dictatorship".
"Never since the regime change of 1989 when communist dictatorship was crushed has there been such an intense concentration of power in the region as in present-day Hungary," they wrote.
Gutter award
Supporters of Mr Orban can argue that he reached the top of Hungarian politics after a long and fair fight.
Assuming the leadership of Fidesz in 1993, he moved the party to the right and in 1998 became prime minister at the head of a centre-right coalition.
That first Orban administration took Hungary into Nato and cut inflation while maintaining economic growth.
Hurt by corruption scandals and regarded by some as divisive, it fell after a single term and Mr Orban spent the next eight years in opposition to the Socialists and Liberals.
Out of government, Mr Orban was regarded by political analysts as a populist, to the extent that in 2007 the UK's Economist awarded both him and then PM Ferenc Gyurcsany its "politics of the gutter award" citing his "cynical populism and mystifyingly authoritarian socialist-style policies".
But bickering on the left played into the hands of Mr Orban, and in 2010 Fidesz and its Christian Democrat allies were returned to power with an overall majority.
He embarked on the constitutional and financial reforms that have so antagonised his opponents.
His government was accused of imposing a conservative agenda on everything from the media to the economy and religion.
Human rights groups, for example, objected to lifetime prison sentences without the possibility of parole for violent crimes, and a ban on discrimination that did not specifically mention age or sexual orientation.
The second Orban government was also accused of reining in Hungary's top court and meddling with the electoral system.
In its defence, President Pal Schmitt insisted Hungarians could be proud of a new constitution which "defines the family, order, the home, work and health as the most important, shared scale of values".
'Own two feet'
A central bank law was passed on 30 December in defiance of EU and IMF warnings that it would infringe on the bank's independence, and put in jeopardy a funding deal needed to shore up the country's financial markets.
"These new bills create the possibility for influence over central bank decision-making based on government and party interests, which... goes against... the basic treaty of the European Union," the Hungarian central bank said in a statement.
Mr Orban argues that he is putting the interests of Hungary, not its politicians, first, and that he has the mandate for completing unfinished business from 1989.
In a speech at the London School of Economics in November, he said that his landslide victory in 2010 represented the desire of Hungarians to "close the chapter of post-communism".
"Strong political leadership", he said, was one kind of "competitive advantage" central European states had to offer the EU.
"It is clear that the most valuable thing today in Europe is political leadership and political stability," he told the LSE.
He described himself as "one of the rare optimistic, even enthusiastic, politicians in Europe" and at least some of his appeal in Hungary lies in this confidence he projects.
"If the IMF gives us a safety net we will begin the forthcoming period with more confidence but if an agreement is not born, we can still stand on our own two feet," he said more recently.
Pragmatist?
Such rhetoric is dismissed as "economic adventurism" by Hungary's former dissidents but others argue the prime minister is a pragmatist, fitting his policies to the national interest.
Gabor Takacs, an analyst at Hungarian think-tank Nezopont Intezet, recently argued in the Financial Times that the Orban government had "pioneered its own course, rather than getting into dialogue with domestic and international stakeholders".
Since his re-election, Takacs points out, Mr Orban has enacted long-needed structural reforms such as restricting early retirement in the police and military and making the welfare system more transparent.
"These are all issues which most if not all governments since the fall of communism have said were critical - yet it is only the Orban government, with its two-thirds majority in parliament, that has been able to tackle these issues in a comprehensive manner," Takacz argued.
Another example of the prime minister's pragmatism may be his attitude to Moscow.
Speaking to the LSE, the man who demanded the withdrawal of Soviet troops in 1989 said: "We Europeans need Russia. We need sooner or later - rather sooner than later - a strategic alliance with Russia."