PM says Queen's visit to Ireland was a 'game-changer'
27 December 2011

From the section

Europe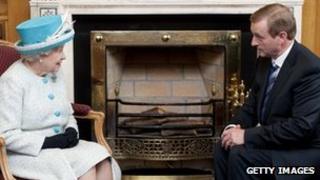 The prime minister has described the Queen's visit to the Republic of Ireland earlier this year as a "game-changer" in Anglo-Irish relations.
In an interview for Irish state broadcaster RTE, David Cameron said the visit put the relationship between the two countries onto a new level.
The visit in May was the first by the Queen to the Republic and was greeted with only minor protests.
Mr Cameron said relations between London and Dublin had been improving.
He said the Good Friday agreement and the end of the Troubles in Northern Ireland had created a thaw in once-frosty relations.
But he said of the Queen's visit: "It's been a game-changer, to use that terrible modern expression."
He told RTE: "What was already a strong relationship, and what was already becoming warmer and more positive because of the settling down of the Northern Irish issue, I think her visit has just put that into a massive new perspective."
'Warmed Irish hearts'
He pointed out the Queen had started her keynote speech during the visit in the Irish language, and Mr Cameron said: "She just warmed the hearts of people, and so this true relationship - that I think had been going on between British people and Irish people for years - has really now been able to flower."
In spite of security concerns, the visit passed off with very little protest, and 20,000 people were on the streets of Cork for the final leg of the Queen's four-day tour.
The Queen's visit was the first time a British monarch had visited Dublin and the south of Ireland since King George V in 1911, when Ireland was still part of the British Empire.
Five years later the Easter Rising broke out in Dublin and, after several years of political violence, the modern Irish state came into being in 1922.
On Tuesday evening RTE is broadcasting a special documentary on the historical significance of the visit, entitled The Queen's Speech.