Analysis: Russia's Medvedev reaches out to protesters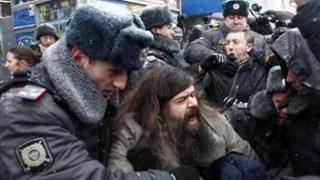 Had it not been for this month's anti-government street protests, it is unlikely that President Dmitry Medvedev would have made his call for "comprehensive" political reforms.
The Russian authorities are not used to making concessions.
But the system of "managed democracy" is malfunctioning and the Kremlin knows it has to offer a degree of change if it wants to stay in control.
In his state of the nation address, President Medvedev said he had "heard those who are saying that changes are needed" and "understands them".
The key message he tried to convey was that the Russian people could trust the authorities to implement the kind of changes the protesters wanted. Just be patient.
For example, President Medvedev promised more democracy:
Russia would reintroduce direct elections for regional governors - at the moment they are all appointed by the Kremlin
it would become easier for political parties to get registered
there is talk of replacing one of the state-controlled TV stations with a public television channel, independent of the authorities.
There was a second message, too - that street protests and demonstrations are not the way to secure change.
Wake-up call
President Medvedev repeated Vladimir Putin's warnings about external forces trying to whip up trouble on Russian streets.
"Russia", he said, would not allow "foreign interference in its internal affairs".
He warned Russians not to let "provocateurs and extremists" drag them into their "political adventures".
President Medvedev's call for reform is unlikely to win over the protesters. Following widespread reports of vote-rigging, they have been demanding the annulment of the parliamentary election results and a fresh ballot.
The Russian president today gave no indication he would agree to that. Moreover, the political reforms he did propose were short on detail.
But the fact that the authorities are at least talking of political reform shows the pressure they are under now.
That is a direct result of the street protests.
When tens of thousands of Muscovites gathered on Bolotnaya Square earlier this month to express their anger with the people in power that was a wake-up call for the Kremlin.
If the protests continue and grow larger, the authorities may face an uncomfortable choice: whether to make more substantial concessions to the demonstrators or crack down on the protests.