Greek PM Papandreou faces unity challenge over bailout
5 November 2011

From the section

Europe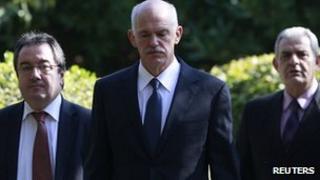 Greek PM George Papandreou has said efforts to form a new government of national unity will get under way soon.
Mr Papandreou said these were "critical times" as he attempts to push a vital EU bailout deal through parliament.
He was speaking after talks with President Karolos Papoulias, a day after narrowly winning a parliamentary confidence vote.
The main opposition New Democracy party wants snap elections and says it will not join a Papandreou-led coalition.
The party's leader, Antonis Samaras, says Mr Papandreou is "dangerous for Greece" and must resign.
Mr Samaras is due to meet the president on Sunday.
Mr Papandreou says early elections would be "catastrophic" for Greece, and the bailout must be agreed first.
Without the bailout funds, Greece may go bankrupt before the end of the year.
Mr Papandreou said he had gone to the presidential palace on Saturday to inform Mr Papoulias of his "intention to contribute decisively to the creation of a government of the widest possible consensus".
That government must have as its focus the ratification of the agreement reached by EU leaders on 27 October, he said.
That hard-fought package offers loans and debt reduction in exchange for drastic spending cuts and austerity measures.
"These are critical times. In the immediate future the necessary process will begin to form the widest possible consensus government," said Mr Papandreou.
Earlier, said he was concerned that "a lack of co-operation could trouble how our partners see our will and desire to remain in the central core of the European Union and the euro".
Mr Papandreou has hinted that he could stand aside if it would enable progress, and the BBC's Mark Lowen in Athens says it is looking increasingly unlikely that Mr Papandreou will lead a future coalition.
Suggestions are emerging that Finance Minister Evangelos Venizelos could replace him as interim prime minister. He has previously said elections could be held once procedures for securing the EU bailout package were finished.
'Catastrophic'
Greece's mounting debt crisis and the implementation of austerity measures have proved hugely unpopular with the public, prompting widespread protests, strikes and occasional bursts of violence.
But if Greece defaults on its debts, the cost of borrowing would rocket for other countries, potentially leading to a new banking crisis.
Earlier this week, Mr Papandreou shocked EU partners and sent markets into turmoil by calling for a national referendum on the deal which they thought had been secured.
He faced calls to resign even from within his own party, and although the plan was abandoned the confidence vote went ahead.
The late-night vote was on a knife-edge, but the government eventually won with 153 votes to 145.
Bankruptcy threat
On Saturday, German Chancellor Angela Merkel, a key figure in negotiating the deal for Greece, said it could take a decade for Europe to resolve its debt crisis and that this could only be done by countries placing legal limits on their debts.
"Everyone in Europe must make an effort to achieve all that is required," she said in comments posted on her website.
The Greek crisis dominated the agenda at the G20 summit in Cannes this week, where Mr Papandreou was summoned for urgent talks on Wednesday.
European Commission President Jose Manuel Barroso acknowledged it was possible that Greece could end up leaving the eurozone, but said it was "in their interests" to stay.
"I think the principle of a country leaving the euro is not a good one. But at the end, it depends on them being able to implement the decisions taken together," he said.
The summit put the next tranche of Greece's existing bailout on hold.
The leaders in Cannes also agreed to boost the resources of the International Monetary Fund (IMF) in an effort to support economic growth.
The EU bailout deal, agreed last month, would give the heavily indebted Greek government 130bn euros (£111bn; $178bn) and it imposes a 50% write-off on private holders of Greek debts, in return for deeply unpopular austerity measures.
Although the Greek public has strongly resisted the austerity measures, a recent opinion poll in a newspaper showed 70% wanted to remain within the eurozone.