Russian girls swapped at birth win compensation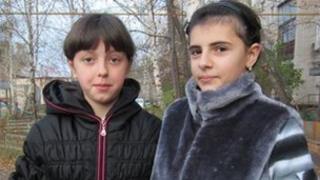 Two Russian families whose daughters were accidentally switched at birth in hospital have been awarded $100,000 (£65,000) in compensation.
The two girls - Irina and Anya - were born 15 minutes apart in December 1998, in the same hospital in Kopeysk in the Ural Mountains.
A judge delivered the verdict in a courtroom in the small town on Monday.
The children's parents are now considering buying properties close to each other, or even sharing one.
The mix-up only emerged after Yulia Belyaeva - who had brought Irina up believing her to be her own daughter - arranged a DNA test, because her former husband was refusing to pay maintenance.
The test showed that in fact neither of them was her natural parent and further research uncovered the hospital's mistake.
Yulia Belyaeva said she was only just getting used to the size of the award.
"It is the largest amount of compensation one can hope to get in Russia, But I haven't got my head around how I am going to spend it yet," she said.
One option is for the families to buy houses close to each other, or to purchase a property together.
But there are complications; there are big differences between the two households.
Irina's natural father Naimat Iskanderova is from Tajikistan and a strict Muslim, while Yulia Belyaeva is a Russian Orthodox Christian.