Irish presidential election: Sean Gallagher builds lead in polls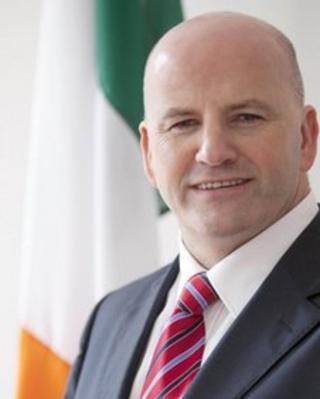 The latest Irish presidential poll suggests that independent Sean Gallagher has built up a commanding lead over his nearest rival.
The Ipsos MRBI poll in Monday's Irish Times shows that Mr Gallagher has 40% of first preference votes.
Labour candidate, Michael D Higgins, is in second place with the backing of 25% those surveyed.
Martin McGuinness' share of the vote has decreased by 4% from the last poll, down to 15%.
The election is on Thursday and the last major broadcast debate takes place on Monday evening.
Mr Gallagher and Mr Higgins are the only candidates to increase their share of the vote.
In the new poll, David Norris was on 8%, Gay Mitchell of Fine Gael was on 6% and both Mary Davis and Dana Rosemary Scallon were on 3%.
All seven candidates will appear on an RTE Frontline debate on Monday night.
The poll was taken on Thursday and Friday of last week among a sample of 1,000 voters.